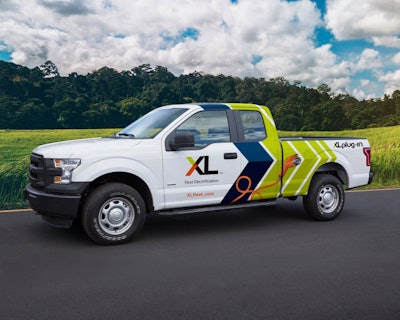 XL is embracing an all-electric future, but in the meantime they're seeing a lot of success ahead in 2020 for their hybrid trucks and vans which offer impressive mpg gains and emissions reductions without the need for large infrastructure changes.
We caught up with XL shortly after their XLP Plug-in Hybrid Electric drivetrain was featured in TIME Magazine's Best Inventions of 2019. XLP technology went to work in commercial, utility and municipal fleets throughout North America in 2019. It installs seamlessly on Ford F-150 and F-250 pickups and offers up to 50 percent gains in mpg while reducing emissions up to 33 percent.
HWT: What are the advantages of going with an XL hybrid versus all-electric?
XL Fleet Director of Marketing Eric Foellmer: Commercial fleets are under pressure to begin reducing their carbon footprint immediately, but all-electric options are limited by challenges (such as cost, range and infrastructure) that will take many years to overcome. Hybrid and plug-in hybrid electric vehicles provide a viable and readily available solution that can help fleets make huge progress toward their sustainability goals today, and well into the future.
HWT: What's the outlook like for 2020? With all-electric powertrains steadily making their way into commercial segments we're curious to see how XL envisions hybrid sales for next year.
Foellmer: Battery electric powered fleets are clearly where the industry is headed, and we're looking forward to all-electric propulsion becoming the norm and not the exception. But you can't displace a century of gasoline-powered infrastructure overnight, and big challenges remain that will continue to inhibit widescale BEV adoption in the near future. Hybrids will continue to be the most widely sold electrified vehicle technology on the market next year. Plug-in hybrids will continue to gain traction as a way for fleets to make huge CO2 reductions while readying themselves for a more fully electrified fleet in the future. XL Fleet's plan has always been to continue leading the way toward that transition, and we're anticipating a huge year in 2020.
HWT: All electric powertrains are lauded for their strong torque. What's the average uptick in torque with an XL system?
Foellmer: Both the XL Hybrid and Plug-in Hybrid Electrification systems can provide 220 foot-pounds of additional torque during acceleration, which can dramatically reduce fuel consumption and CO2 emissions during what is typically the least efficient portion of a fleet vehicle's drive cycle.
XLP plug-in hybrid technology is the newest electrification platform from XL, which has been offering hybrid electric drive systems for a wide range of commercial Ford, GM and Isuzu vehicles for the past decade. XL's customers have driven over 100 million cumulative miles on the company's hybrid and plug-in hybrid electric drive systems over that time.