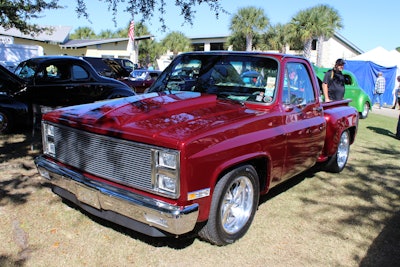 1985…Back to the Future, Goonies and Pale Rider hit the big screen and Matt Baugh bought his first vehicle at age 15.
Thirty-four years later and the Satsuma, Ala. resident still has that 1981 Chevy C10, though it's changed a lot from the time when Mike Tyson made his pro boxing debut and Reagan still ran the White House.
Baugh started his square body restomod in 2009. We caught up with him recently at the bi-annual Emerald Coast Cruizin' Car Show in Panama City Beach, Fla.
At the heart of his truck is a 500-hp 383 stroker paired up with a Turbo 350 transmission which turns the 4.10 locker in the rear.
Competing for attention with that immaculate engine bay is a stunning Brazilian cherry and curly maple bed which was painstakingly hand-built along with stainless-steel fasteners.
If that exterior color looks familiar, you're right. It's red jewel tintcoat, a GM factory color which caught Baugh's eye on the 2011 Camaro.
The interior is just as impressive. In the video below look for Dakota Digital gauges, Silverado badging, power windows, power locks and a leather bench seat that offers a nice Chevy tribute. The original dash was spared the cracks that befalls most other examples.
If you look closely in the video you'll see drum brakes in the rear behind Boyd Coddington wheels. They may be next on the to-do list, otherwise Baugh's pretty content with the results.
The truck's been to various venues including the All Chevy Supernationals, a couple of Rod Runs and The Wharf in Orange Beach, Ala.
Square body restorations are more popular now. Roadkill host Mike Finnegan has taken on his own C10 project and updates fans regularly on social media with progress reports and parts requests. But when Baugh started his restoration 10 years ago, parts were harder to come by. Thankfully, junk yards and LMC Truck came through.
"We went completely from the ground up. Every nut and bolt came apart," Baugh said. "It was my first vehicle. That's why it meant so much to me to restore it."
The toughest part?
"Getting my wife to let me spend the money," Baugh said with a chuckle.