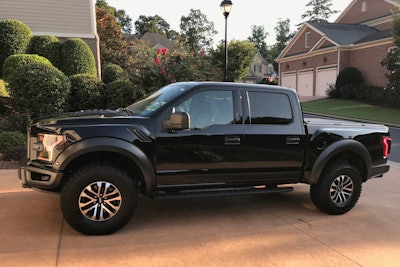 I remember the morning clearly.
My brother had his laptop open to a new 2018 Ford F-150 4×4 SuperCrew with a Roush Supercharger that squeezed 700 horsepower out of that Coyote V8.
Next move? We had to go for a test drive.
John had been hunting for a new pickup for a while and being in the Atlanta area meant combing through a lot of trucks with a lot of options.
Over the past 17 years, his Toyota Tundra had proven really dependable so brand loyalty was definitely a factor.
However, early on he had been passionate about power. I know this because back in the 80s I was the guy in the back seat opening the nitrous bottle for his '69 Chevy Nova Super Sport on the streets in Southern California. (He liked to pressurize the line just before hitting the switch. Good times.)
There was no way my '65 Mercury Comet with a tired 289 could ever compete, so it was nice living vicariously through John who—at that time—wouldn't think twice about grabbing a wrench and dumping a boat load of cash on his ride to make it faster. Aesthetics? They took a distant back seat back then. Who cared if it looked good and couldn't go fast? Escondido Boulevard didn't play that way.
But now this is nearly 30 years later and his tastes have changed—sort of. He's married with two adorable kids that need a place to ride while Dad takes it all in behind the wheel of a sharp looking truck with 700 horsepower at his command—maybe?
As John explains in the video below, he narrowed his search to that Roush F-150, a 2019 Toyota Tundra and a 2019 Ford F-150 Raptor. It was fun going along for the ride and I wish him all the best with his new truck.
"I love the thing. No regrets at all," he says in the video below.
He was able to nab a 2019 Ford F-150 Raptor (801A package) at roughly $4,000 below retail. And as the case has been with nearly every vehicle he's owned, he's now looking to make some changes to the stereo.
"Well, the stereo system is just okay," he writes in response to a viewer's question. "Today, I was actually driving by a stereo shop and wondering how much it would cost to upgrade the system. I'm not sure if I could have asked for the B&O package without buying the 802A. I did test drive trucks with the B&O system. It was definitely better than what comes with the 801A. Also, it does not come with a CD player which might not be a big deal for many. I have a lot of CDs which means if have to download them to iTunes if I want to listen to it. Bottom line: If you like good or better than average sound, you'll want to upgrade with aftermarket or hold out for the B&O."
Other than that, he's thrilled with his new Raptor which scratches his itch for horsepower, provides plenty of creature comfort and safety for the family and, unlike his two-wheel-drive Tundra, will more than likely keep him from sliding down snow-covered streets. But that's another story…