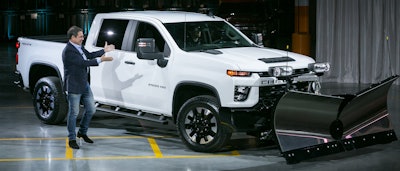 While long strikes like the UAW's current walkout on GM can impede new vehicle deliveries, they can also bring on a shortage of parts which may ground some fleet trucks and vans.
The longest strike in nearly 50 years has shut down all of GM's North American plants. When roughly 46,000 workers left their posts on Sept. 16, GM was looking at an 80-day supply of vehicles, but a typical parts department operates on much lower stock levels, according to Tyson Jominy, vice president of data and analytics consulting for J.D. Power.
"Parts supplies will be one of the first areas impacted," Jominy said. "In general most dealerships don't have significant supplies of parts on hand due to space constraints and carrying costs. In many cases the parts department relies on the speed of the automaker's distribution system to have parts delivered quickly as needed."
GM is working to fill the parts gap by leaning on its large network of dealers and distributors.
"Negotiations between GM and the UAW continue but our ability to ship parts from our distribution facilities is limited," said Jim Cain, senior communications manager at GM. "Our dealers have a limited supply of parts. However, we are supplementing customer needs with inventories from a group of more than 300 wholesale dealers and ACDelco distributors. In support of our customers, we have also made arrangements to have many high-volume maintenance and repair service parts shipped directly from our suppliers to dealers."
Parts outside the U.S., like wiper motors and power steering racks, may not be impacted by the strike, Jominy said.
Following the strike, J.D. Power data indicates that sales of new GM vehicles have taken a hit, particularly in the Midwest.
"Cleveland, Columbus, Milwaukee, Minneapolis, as well as Philadelphia, Pittsburgh and Tampa are already seeing velocity of vehicle sales starting to slow rapidly," Jominy said. "However, this isn't to say that it's one type of vehicle or geography. Things are tighter in Dallas than Houston. Supply is tighter in Tampa than in Orlando or Miami."
Besides pushing for more pay and healthcare benefits, UAW workers want GM to bring its manufacturing plants in Mexico to the U.S. and to re-open its Lordstown, Ohio plant instead of moving on plans to sell it to electric and hybrid van and truck manufacturer Workhorse.