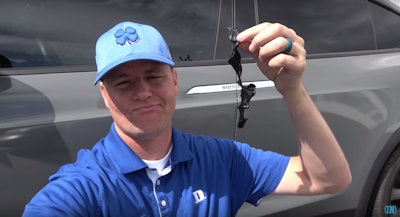 Tesla's electric pickup will be revealed next month and according to CEO Elon Musk the truck looks "closer to an armored personnel carrier from the future" than any of the renderings floating around online.
While such a comparison evokes images of impressive power, protection and a pinch of General Patton, let's not forget the basics: How much can it haul and tow and for how long?
The closest thing to a truck that Tesla currently sells is its Model X SUV. In a surprising setback, one of the automaker's biggest fans recently announced that he had to sell his beloved Model X because of range anxiety. YouTube Channel What's Inside host Dan Markham explained that driving his family from St. George, Utah to Salt Lake City had proven to be too much of an inconvenience because of charging requirements. He sold the 2018 P100D and got a used 2014 Honda Accord hybrid instead.
"The Tesla Model X is supposed to get 280 miles range which technically should get us all the way to Salt Lake, but it never happened," Markham explains in a video that both extols the aesthetics, speed and safety of the $100,000-plus EV while lamenting its range limitations.
Family trips to Salt Lake meant stopping for two separate charges along the way which Markham said took 30 to 45 minutes in each place. Once in Salt Lake, relatives and friends couldn't provide plugs at their homes to charge up the kWh-hungry SUV. Planning road trips around charger locations started taking a toll.
"I love this car, but I just couldn't have it in my life anymore, and I had to get rid of it," Markham says.
Markham is still holding onto his other Model X and a Tesla Roadster for shorter journeys. Still, he candidly admits that his family's attempt at driving nothing but EVs did not work out as planned so they had to turn to an internal combustion engine for help. We completely understand. Last year, HWT pointed out an alarming disparity between a Model X's 116-mile projected range based on recent driving conditions and the 257-mile 'perfect world' range displayed on the dash. Read more here.
Who knows? Markham may be ditching his Accord for the new Tesla pickup which Musk says will be offering up to 500 miles of range while out-performing a Ford F-150 and a Porsche 911. Musk also said that his electric Semi will have up to 500 miles of range. Wired reported that Tesla recently secured a patent on a new lithium-ion battery that reportedly offers one million miles of service which is nearly double the current lifespan of its EV batteries. The lithium nickel manganese cobalt oxide, or NMC battery, is said to be ideal for Class 8 truck use—and maybe pickups too?
Judging by Musk's comments, his electric pickup won't look like any other pickup on the road which may work in his favor since he'll certainly have plenty of competition.
In addition to a growing number of start-ups, both Ford and GM have come on strong in the race to electrify powertrains and will be producing electric trucks. Rivian is the most promising start-up yet. Its R1T pickup and R1S SUV have received plenty of investor backing and will be produced in the old Mitsubishi plant in Normal, Ill. Other players in the space include Workhorse and Bollinger. U.S. Vice President Mike Pence announced in August that Workhorse secured funding to purchase GM's idled Chevy Cruze plant in Lordstown, Ohio according to ABC News 5 in Cleveland. Though Bollinger has not announced where it will be producing its B1 SUV and B2 pickup, the vehicles are expected to roll out in early 2021.