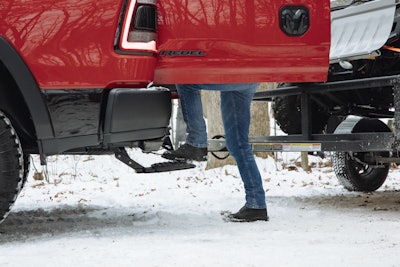 Whether you want your tailgate to swing out or drop down, Ram's got you covered.
The new Ram 1500 Multifunction Tailgate offers an industry-first 60-40 split tailgate which can be opened like…well…a gate and provide closer access to cargo in the bed.
With both gates opened on either side, the bumper becomes more of a convenient step into the bed, forklift loading gets easier and bed washouts are no longer hindered by a drop-down tailgate.
But if you're feeling traditional, the new gate offers the capabilities of a fully-dampened, drop-down tailgate with remote release options.
"The Ram Multifunction Tailgate is intuitive to operate, and owners will find it immediately useful," said Reid Bigland, Head of Ram Brand – FCA. "Combined with Ram's class-exclusive RamBox feature and new tailgate step, we're taking Ram's cargo management and storage to the next level."
The Ram Multifunction Tailgate is trailer-friendly and does not require that the trailer and hitch be removed before opening. With a 2,000-lb. load rating, Ram Multifunction Tailgate retains all of the traditional tailgate's capability.
Packaged with a spray-in bedliner, the Ram Multifunction Tailgate has four configurations: open flat, open left door only, open right door only and open both doors.
Each door swings open 88 degrees, and access can be further enhanced via a retractable center-mounted step option.
The Multifunction Tailgate will be available across all seven 2019 Ram 1500 models and will reach dealerships in the second quarter of 2019. Manufacturer's Suggested Retail Price is $995. The optional center step is $295.