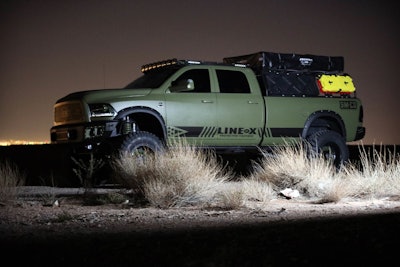 A LINE-X truck custom built by the Diesel Brothers will be making its public debut this week at the Chicago Auto Show.
The 2018 Ram 3500 Quad Cab, which was revealed at SEMA this past October (see photos below), was built to commemorate the 25th anniversary of LINE-X.
"Our relationship with the DieselSellerz has really grown over the past few years and we're honored to be able to show their incredible build at the Chicago Auto Show," said Dennis Weese, president of LINE-X. "Heavy D and Diesel Dave remain very popular in the diesel community, and we are proud to be able to put their talents on display at the show.
"In addition to the Diesel Brothers-built truck, we will also have on display an outfitted 2019 RAM 1500 truck courtesy of Great Lakes LINE-X that gives show attendees some great examples of the customization possible at LINE-X shops around the country," Weese continued.
Featured companies on the 2018 Ram 3500 build include:
2019 Ram build includes:
LINE-X PREMIUM bedliner
LINE-X Specialty Automotive Exterior Coating on Drop Steps, Fender Flares and Bumpers
Truck Gear by LINE-X Drop Steps
Truck Gear by LINE-X LXP Tonneau Cover
Bushwacker Pocket Style Fender Flares
Grid Wheels
Mickey Thompson Baja Boss Tires
Daystar Lift Kit
Rigid Light Bar
Addictive Desert Design Front and Rear Bumpers
Husky X-Act Contour Floor Liners
Suntec Window Film
Sticker Dude Designs Vehicle Wrap
Gibson Stainless Steel Exhaust
TrailFX 9500lb Winch
WeatherTech Rain Guards
The trucks will be on display during the Chicago Auto Show's media preview, Feb. 7 – 8, and for public days, Feb. 9 – 18. LINE-X will be located at booth SH8 in the South Hall of the McCormick Place convention center.