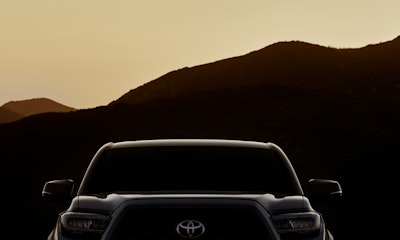 Toyota announced today that its 2020 Tacoma will be unveiled next week at the Chicago Auto Show.
Toyota released a partial shot of the truck (shown above) and posted a link to catch the debut as it happens at livestream.com/Toyota/CAS2019 on Thursday, Feb. 7 at 11 a.m. EST.
In the meantime, take a look below at the 2019 Tacoma TRD Pro painted in new Voodoo Blue. We came across the truck at the North American International Auto Show. Though we were hoping for a stick shift, this one was equipped with a six-speed automatic.
The 2019 TRD Pro and TRD Sport are two of six Tacoma models that can be optioned with a manual transmission, in this case a six-speed gear box mated to a 278-hp 3.5-liter V6 that offers up to 265 lb.-ft. of torque and knocks roughly $3,000 off the sticker price. Not bad!
The 2019 TRD Pro starts at $45,365 MSRP with a six-speed automatic versus $42,660 for the six-speed manual. It's not clear if a manual option will continue with the 2020 Tacoma. We reached out to Toyota today for additional details but did not hear back from the automaker prior to publication. We'll keep you posted.
The only other midsize truck that offers a manual transmission for model year 2019 is the Nissan Frontier which is available with a five- or six-speed gearbox depending on configuration. The midsize 2020 Jeep Gladiator pickup will be available with a six-speed manual.