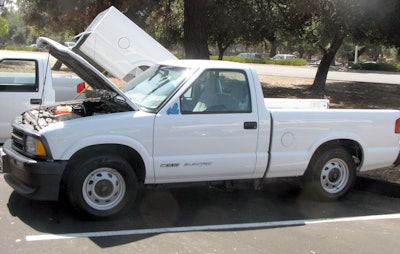 GM is thinking of making another all-electric pickup, but that's hardly surprising news.
GM has had plenty of experience with EVs beyond the all-electric Chevy Bolt and its hybrid cousin, Chevy Volt. Bowtie aficionados will recall the short-lived electric S-10 (pictured above).
First up was the all-electric 1997 S-10 equipped with lead acid batteries and a range of roughly 44 miles. Driving distance more than doubled to 95 miles for the final 1998 model thanks to nickel-metal hydride batteries. The motor from the ill-fated and controversial EV1 was used to power the trucks. Slightly less than 500 were made.
But that was 20 years ago and since then EV technology has made big strides—so big, that GM was thrilled to display their all-electric eCOPO Camaro concept at SEMA this past November. (The car continued to attract so much attention that it was difficult getting a picture without having someone in the shot. See below.)
Yes, the nine-second quarter miler was impressive. But just as impressive and thought-provoking was the eCOPO Electric Crate Concept motor on display nearby.
As Russ O'Blenes, GM's director of performance variants, parts and motorsports explained, the crate motor is designed to be bolted up to a GM transmission. Pretty simple.
Interestingly enough, O'Blenes worked on the electric S-10 of the late Nineties and thinks that GM CEO Mary Barra is on the right track in regards to the company's commitment to an all-electric future. While O'Blenes wouldn't comment on the prospect of a future electric pickup, Duncan Aldred, vice president of GMC brand, would.
"Certainly, it's something we're considering," Aldred told CNBC recently when asked about the possibility of producing a battery-powered Sierra pickup.
Again, no surprise there. Naturally, Aldred would not provide additional details. But, in considering GM's EV past, its tire-shredding all-electric Camaro concept and its hydrogen fuel-cell Colorado and Silverado (both prototypes), it's not hard to imagine GM producing another all-electric pickup.
Plus, with Ford recently announcing its plans for all-electric F-Series trucks, it's really hard to envision GM just sitting on the sidelines.