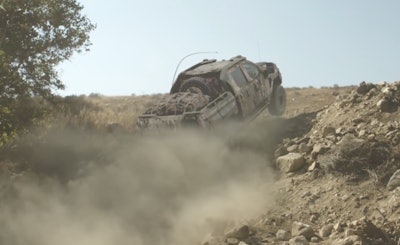 All-electric pickups may be entering the market first, but don't count out hydrogen fuel cell technology.
On its website GM Defense recently posted its second fuel cell-powered Chevy: the Silverado ZH2. The midsize Colorado ZH2, also fueled by the most plentiful element in the universe, made headlines two years ago. The U.S. Army's Tank Automotive Research, Development and Engineering Center has been testing the truck.
Of course the larger, heavy-duty Silverado ZH2 (grille looks like the heavy-duty 2020 Silverado GM revealed in April) has more to offer in terms of towing, hauling and cab space.
"The first heavy duty truck architecture capable of supporting the next generation of vehicle requirements for higher payload, flexible configuration, longer range, and faster re-fueling times with more compact & capable propulsion system," GM Defense notes on its military tech timeline which dates back to 1914 when GM produced trucks for the war effort during World War I.
GM's video reveals that the truck can travel more than 400 miles on a fill-up and is equipped with multimatic dynamic suspension that's at least similar to what's used in the Colorado ZR2. The Silverado ZH2 is shown catching some air in the video below.
Unlike electric vehicles, a hydrogen fuel cell vehicle can be fueled up much faster and emits water vapor which can be used for drinking, an impressive feature on a vehicle designated for military use. Both vehicles rely on battery packs though its unclear of the weight and capability differences between the Silverado ZH2 and an EV pickup with a similar range.
Michigan-based Rivian is debuting an 800-hp electric pickup later this month at the L.A. Auto Show which it says has a range of 450 miles. A base model 80kWh variant of the A1T will offer roughly 200 miles. Prices are expected to range from $50,000 to $90,000.