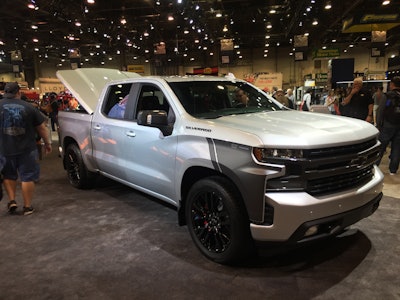 We got a closer look at Chevy's 2019 Silverado RST (Rally Sport Truck) Concept at SEMA.
"This is a new trim level for 2019," Hugh Milne, Chevy marketing and advertising manager, explains in the video below. "RST means that it's supposed to be sporty, race-enthused with body-color accents to it."
The concept truck at SEMA had also been lowered about an inch-and-a-half, dressed up with carbon-fiber and paired up with a bed rug and topper. Under the hood it had Chevy's 5.3-liter EcoTec V8 (355 horsepower and 383 lb.-ft. of torque). The 2019 Silverado RST comes standard with Chevy's new 2.7-liter turbocharged engine which unleashes up to 310 ponies and 340 lb.-ft. of torque.
Scroll down past the video and pictures to see more specs.