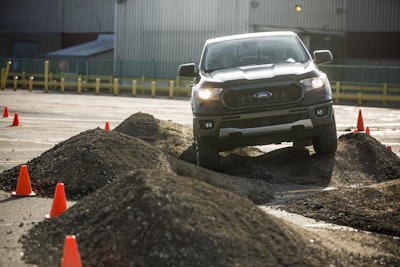 Ford North America President Kumar Galhotra said Wednesday demand for the company's midsize pickup reentry has been so strong that it has prompted management to schedule "massive overtime" at its Detroit-area production facility.
The Detroit automaker is set to ratchet up production of its re-born Ranger pickup, which went on sale earlier this month, and Galhotra says Ford already has 300,000-plus online "hand-raisers" – the equivalent of interested shoppers.
After barely two weeks on dealership lots Galhotra says Ford expects to sell 1,200 Rangers by months end.
"2019 is a really, really big year for us because we're beginning to introduce a lot of new product," Galhotra said just weeks after Ford unfurled plans for the Explorer SUV. Ford expects to replace or refresh 75 percent of its product portfolio – kicked off late last year with Transit Connect – by the end of 2020, Galhotra says.
Going forward, Galhotra says Ford will invest 90 percent of its capital expenditure toward producing trucks and utility vehicles.