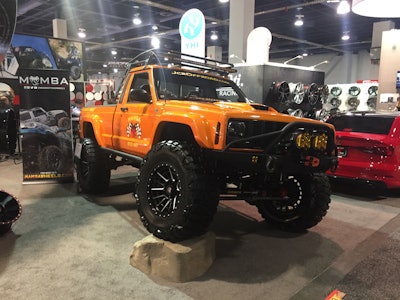 While the world waits on Jeep's upcoming pickup check out JcrOffroad's 1989 Jeep Comanche which they parked in their booth this week at SEMA in Las Vegas.
Sure, life's ruts and bumps can get you down, but probably not so much if you happen to be driving this classic which is geared up for laughs. The first thing that tickled our funny bone was the tailgate. Written upside down in broad yellow letters—or right-side up if the Jeep is upside down—are the following post-crash instructions: "If you can read this, bring me pizza."
Written on the rear quarter panel is the catchy "For haulin n' crawlin." Of course if the truck fails to do either, the driver can hail for help on channel 19 (or channel 9 if things are sinking fast) on the CB radio which is mounted flush with the dash (the steel whip antenna has been tied down for those bumpy roads ahead.) Still, if that's not enough proof that someone's serious about having fun, look below the grill where you'll see 'Redneck' written across the steering damper. But we're pretty sure the real fun comes from that 4.0-liter supercharged inline six.