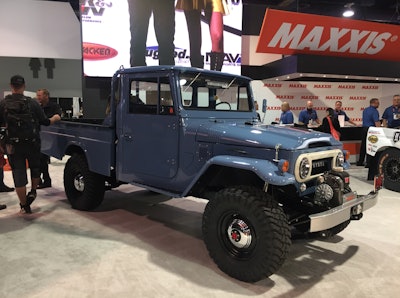 You just don't see Toyota Land Cruiser pickups everyday, so when we spotted one at SEMA at the Maxxis Tires booth we had to stop and take a closer look.
Ed Moore with Proffitt's Resurrection Land Cruisers explained that the 1967 FJ45 turned into a challenging six-year long build. Hard-to-find parts were either found online or manufactured in-house. A five-speed gear box found in Australia was mated to a 1988 Toyota 4.0-liter 3FE.
Some may note that the iconic Warn M8274-70 bolted up front has not yet hit store shelves. Limited to 999 units worldwide, the 70th anniversary edition features a 10,000-lb. pulling capacity and a 150 ft. long Spydura synthetic rope.
We'll let Moore do the rest of the talking below.