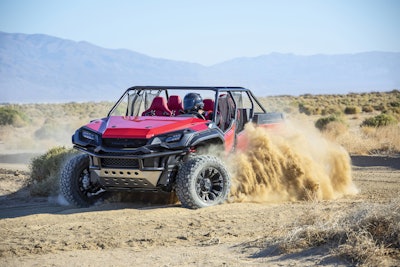 While the Honda Ridgeline may not exactly evoke scenes of gravity-defying jumps and gag-inducing dirt plumes, the automaker's off-road build revealed today at SEMA certainly looks like it's on its way to earning a dirty pedigree that would make any truck maker proud.
First up, the Honda Rugged Open Air Vehicle concept is an impressive marriage between the Ridgeline and Honda's Pioneer 1000 side-by-side. The vehicle combines the utility of the Honda Ridgeline with the off-road ruggedness and extreme styling of the Honda Pioneer 1000.
While the Rugged Open Air Vehicle is a concept, it nonetheless uses existing Honda components, such as modified Ridgeline body and suspension, along with production Pioneer doors and custom designed bed and tailgate panels modeled after the Pioneer.
The Ridgeline-based interior has been modified to take on the outdoors and features a Pioneer 1000 steering wheel adapted to the Ridgeline steering column, along with Civic Type R seats reskinned in waterproof Pioneer 1000 material, smartphone holders from RAM Mounts, and durable paint-on surfaces to protect the exposed instrument panel from the elements.
Honda is certainly no stranger to off-roading. In June, Team Honda Racing Ridgeline won the Baja 500 for the second time in the last three years.