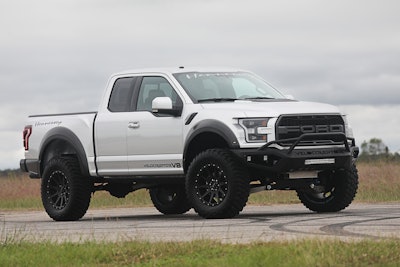 Do the roar!
That memorable scene from Shrek Forever After came to mind when John Hennessey gave the go-ahead to fire up his company's new V8-equipped VelociRaptor at SEMA this week.
The resounding roar is sweet music to Raptor fans who have been asking for more displacement over the smaller 3.5-liter high-output V6 that up until now has been the only available engine for the 2017-up Ford Raptor and Hennessey-modified VelociRaptor.
And the roar is working. Hennessey, the founder and CEO of Hennessey Performance, said that the more powerful truck (758 horses vs. 500 or 600, depending on the Hennessey V6 package) had people signing on the line before its official debut at SEMA.
"It's been great. We had 15 orders before we even got to the show and I think that number's likely to grow," he said.
The VelociRaptor V8 conversion includes a new Ford 5.0-liter V8, Ford 10-speed automatic transmission, Ford wiring harnesses, ECUs and other parts that complete the engine swap.
Once the V8 is installed, the Hennessey team cranks up the power to the tune of 758 horses through their 2.9-liter supercharger system which produces seven psi of boost pressure. Hennessey's V8-powered Raptor runs from 0-60 mph in 4.1 seconds.
"We are so excited to introduce our VelociRaptor V8 – the first and only V8-powered Gen 2 Ford Raptor," Hennessey said. "Our customers have been begging for a V8 option for their new Raptors since the truck first came out in early 2017. We heard their calls and are so pleased to meet this need in the market. The sound of the VelociRaptor V8 is so worth it!"
The Hennessey VelociRaptor V8 conversion also includes VelociRaptor bumpers front & rear, LED front lights, Stage 2 off-road suspension with a six-inch lift, Hennessey 20-inch alloy wheels, 37-inch BF Goodrich KM03 off-road tires, Hennessey & VelociRaptor V8 exterior badges, and Hennessey embroidered headrests, serial numbered plaques in the interior and engine bay.
The price for the 2019 Hennessey VelociRaptor V8 is $147,950, which includes a new 2019 Ford Raptor F-150 truck. Production is limited to just 100 units for the 2019 model year and each vehicle comes with a 3-year / 36,000 mile warranty that covers the base Ford truck as well as the complete VelociRaptor V8 conversion.
The VelociRaptor V8 is available directly from Hennessey or from select Authorized Hennessey Performance Ford dealers.
For midsize truck fans who are bummed out that Ford Ranger Raptor is not yet available in the U.S., Hennessey has again stepped up to the plate.
"We'll be offering a VelociRaptor package for the Ranger," he said.
Numbers aren't available yet.
"We just have to get a truck and see how much power we can get out of it," Hennessey continued. "I don't know how much power we can give that little motor."
The only powertrain option available for the 2019 Ranger is the 270-hp 2.3-liter EcoBoost mated to Ford's 10-speed automatic transmission. Customers are expected to begin taking delivery of the truck in January.