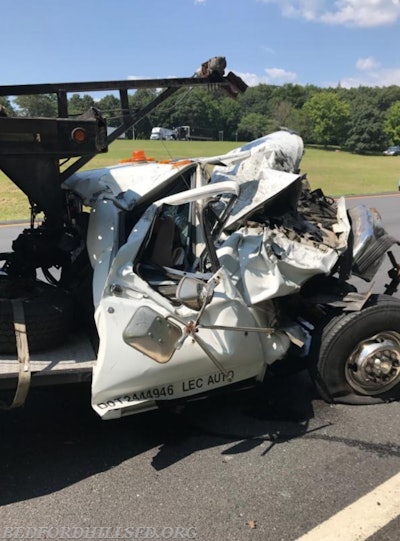 A nasty car carrier crash in Bedford Hills, New York could have been a lot worse if it wasn't for a dump truck playing the role of crash attenuator.
Last Friday's crash left the driver of a Ford Super Duty flatbed hospitalized after he slammed into the back of a dump truck on Interstate 684 that was put in place to protect a mowing crew with New York State Department of Transportation, according to the Bedford Hills Fire Department.
BHFD, which provided photos that show how the flatbed was completely destroyed after striking the Class 8 dump truck, asked on its website that drivers "please take the time to review the Move Over Law" in New York State.
"Drivers must use due care when approaching an emergency vehicle or hazard vehicle including police vehicles, fire trucks, ambulances, construction and maintenance vehicles and tow trucks," said BHFD Chief Jason Nickson. "The Move Over Law applies to both sides of the roadway, not just the shoulder on the right."
It's unclear if the driver had been driving distracted or possibly under the influence of drugs or alcohol. Bedford Hills is about 45 miles northeast of New York City.