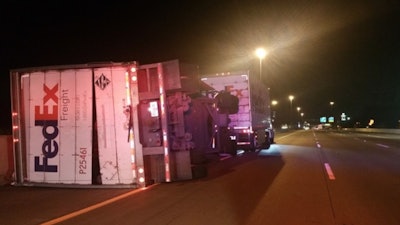 A FedEx truck pulling double-trailers overturned on I-80 in Indiana this morning after colliding with a roadwork crash attenuator.
Indiana State Police report Chicago resident Michael Bowles appeared to have ignored highway maintenance signs when he crashed his 2018 Peterbilt into an attenuator around 3 a.m.
"The semi disregarded the lighted arrow board/attenuator and attempted to swerve at the last moment, striking the portable impact attenuator with the right side of the vehicle," a police report states. "This resulted in damage to the attenuator and scrape damage to the tractor and both trailers. The driver over-corrected as the semi swerved to the left and drove onto the inside shoulder before the driver was able to correct the vehicle back to the right, causing the second trailer to overturn."
The overturned truck blocked the left two lanes of I-80 for nearly three hours before it was towed.