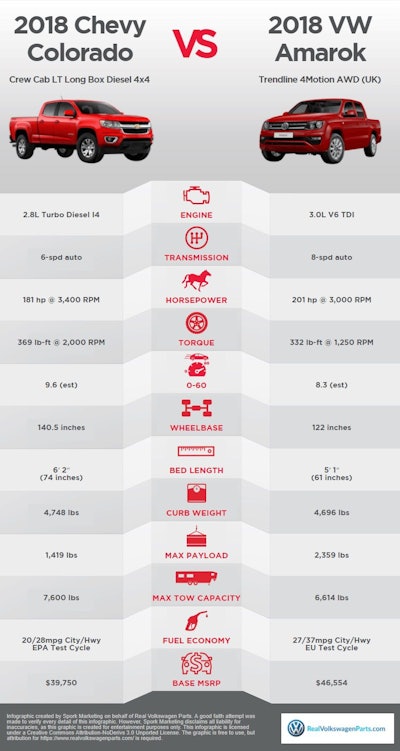 Volkswagen's Atlas Tanoak midsize pickup concept was an attention-getter at the New York International Auto Show last month, but you can't get anything like it if you live on this side of the Atlantic Ocean.
The Atlas Tanoak (pronounced tan-oak), named after a tree native to the U.S. Pacific Coast, is a dual-cab short-bed based on VW's Atlas SUV and is the first pickup based on VW's MQB or modular transverse matrix architecture.
A 2018 VW Amarok Trendline 4Motion AWD would compare to a 2018 Chevy Colorado Crew Cab LT Long Box Diesel 4×4, and RealVolkswagenParts.com has done all the important number crunching on who might come out ahead in a hypothetical challenge.
"Both of these diesel trucks are multipurpose," says Bob Cockerham, parts manager at RealVolkswagenParts.com. "They're both equipped with ABS and have traction control, and both are capable of hauling, light towing, and taking on some off-road terrain. But the Amarok handles all of this with more power and fuel efficiency."
The U.K.'s diesel-friendly emission standards help the Amarok in speed and power, but the Colorado features a larger maximum towing capacity. The Amarok's also comes with a substantially higher sticker.
Not having to answer to EPA emissions regulations, the Amarok surpasses the Colorado in almost every spec.
The powertrain of the Amarok includes a 3-liter turbo diesel V6 and an 8-speed automatic transmission with fuel-saving gears and three driving modes for focused performance compared to the Colorado's 2-liter turbo diesel I4 and a 6-speed auto transmission.
The Amarok gets 27/37 mpg fuel efficiency while the Colorado comes in at 20/28 mpg. The Chevy truck delivers an 181 horsepower at 3400 rpm and torque output of 369 lb. ft. at 2000 rpm torque. As impressive as that is, this is another category where Amarok takes the advantage with 201 horsepower at 3000 rpm and 332 lb.ft. at just 1250rpm.
Volkswagen's diesel truck sprints from 0-60 in 8.3 seconds, compared to the Chevy diesel's 9.6 seconds.
Colorado does pick up a couple wins in the on-paper contest. Its 7,600 pound towing capacity is nearly a half-ton more than the VW and the Colorado costs nearly $7,000 less than the Amarok – that's before you have a U.K. based dealer load it into a container, ship it to the U.S. and pay all associated fees.
"We've heard the rumors about VW bringing the Amarok to the U.S., and we hope they're true," Cockerham says. "I believe Volkswagen is up to the challenge of building a diesel truck that outperforms other diesels while staying within the confines of U.S. regulations. Whether it's an Amarok or an Atlas Tanoak, I hope we get an opportunity to do that comparison."