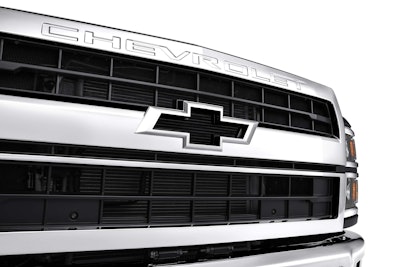 It may not be obvious, but the newest – and largest – additions to the Chevrolet product line share a design element with one of the Detroit automaker's most legacy-rich – and fastest – vehicles.
When they hit the streets next model year, Chevy's all-new Silverado 4500HD/5500HD/6500HD trucks will feature the "flowtie," which was first introduced on the front grille of the 2014 Camaro Z/28 and now standard on the 2018 Camaro ZL1.
The chrome outline of a traditional Chevrolet bowtie with the center removed, the flowtie allows increased airflow to the engine which Design Manager Kevin O'Donnell says helps boost performance.
"Our engineers designed it to help win races by using airflow to lower coolant and oil temperatures on the race track," he says.
During aerodynamic testing on the Z/28, engineers found the grille's bowtie was displacing air away from the radiator, which can impact engine cooling. With cutting wheel in-hand, propulsions engineer Richard Quinn removed the bowtie's gold fill, leaving only the silver outline intact. He installed the prototype flowtie on the grille and a retest revealed that it allowed more air into the engine, lowering engine fluid temperatures during extended track sessions.
Conventional cab Silverado heavy-duty cycle trucks needed a similar solution that allowed for maximum airflow with the truck's pumped-up grille, so designers borrowed the flowtie design.
"It's going to work on the Silverado exactly the way it does on Camaro," O'Donnell says.