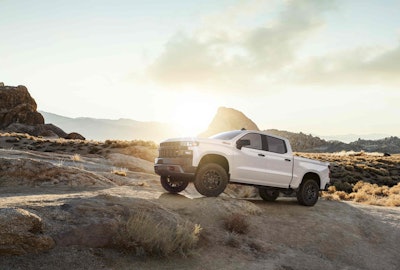 The Chevrolet Silverado recently won three J.D. Power awards following studies that focus on customer satisfaction.
Six different Chevrolet cars, trucks and SUVs won a total of nine awards in J.D. Power's 2017 Vehicle Dependability, Initial Quality and APEAL Studies.
"These awards highlight the automotive brands that are continually exceeding customer expectations and leading the way in terms of dependability, quality and overall customer satisfaction," J.D. Power states in a press release.
"Chevrolet is winning with consumers because our designers, engineers and dealers are focused on delivering great products and a great ownership experience," said Alan Batey, president of GM North America and brand chief of Global Chevrolet. "This recognition from J.D. Power shows Chevrolet's strength and underscores the momentum we have across the board."
Chevrolet's 2017 J.D. Power Vehicle Awards
Vehicle Dependability Study examines issues reported by original owners of 3-year-old vehicles to determine which cars are the most reliable:
Chevrolet Sonic
Chevrolet Camaro
Chevrolet Tahoe
Chevrolet Silverado HD
*Based on 2014 models
Initial Quality Study measures problems experienced during the first 90 days of ownership:
Chevrolet Silverado
Chevrolet Silverado HD
Chevrolet Sonic
Automotive Performance, Execution and Layout Study (APEAL)measures owners' emotional attachment and level of excitement across several attributes:
Chevrolet Bolt
Chevrolet Tahoe
Chevrolet and its dealers also earned high marks among mass-market brands in two other influential studies, the 2018 J.D. Power Customer Service Index (CSI) Study, which measures customer satisfaction with maintenance or repair work among owners and lessees of 1- to 3-year-old vehicles, and the 2017 Sales Satisfaction Index Study, which measures customers' new vehicle purchase experiences from product presentation to final delivery. Each survey includes feedback from 28,000 to more than 70,000 customers.