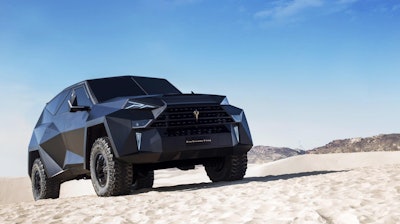 Okay, start with a Ford F-550 chassis, add 1,800 designers eager to make a formidable, bullet-proof luxury 4×4 and you have the $2 million Karlmann King.
Equipped with a Ford 6.7-liter V10 and a six-speed automatic, the Chinese built behemoth can travel up to 87 mph on 40-inch tires.
If gun-toting villains are the least of your worries, then choose the basic carbon fiber and steel option which weighs in at 9,920 pounds or roughly 3,300 pounds lighter than the bullet-proof body. Either way, with weight like that, you'll need every drop of gas that 40-gallon tank can spare.
Seating can be optioned for up to seven, but as you'll see in the interior shots below, IAD Automobile Technology in Beijing definitely has partying for two in mind. Air suspension is designed to deliver a cushy ride and help keep that coffee machine from jostling around.
Other features include indoor neon light control, air purification control, private safes, 4K TV and a PS4 Entertainment System.
For some perspective on how big this beast is, we've included a shot of a curious onlooker standing next to this tank which measures 236 inches long, 98 inches wide and 98 inches high. Ground clearance comes in at 12 inches.
Better hurry…IAD plans on building only nine of these unique rides.