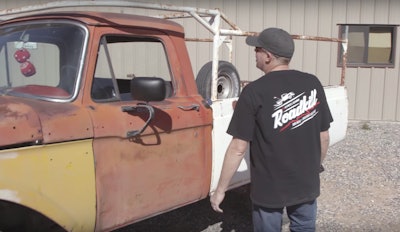 Few of us have ever had a chance to revisit a truck that we felt compelled to sell for whatever reason—and that might be a good thing, but for "Roadkill" host David Freiburger a recent reunion with his Frankenstein-like 1965 F-250 4×4 rekindled some good memories along with an invaluable life-lesson or two.
"I went on a ton of adventures with it. Drove it all over the southwest and I guess it sort of toughened me up," Freiburger says in the video below which originally aired on Motor Trend's YouTube channel.
For Freiburger, the former editor of Hot Rod, Car Craft and other auto pubs, nearly every nut and bolt tells a story—from the truck's mismatched body panels, to the cab's B&M shifter adorned with an old beer koozie to the big block 390 crowned with a GM HEI distributor tweaked to spark in a Ford. The truck, which Freiburger bought for $800 in the 90s, has been featured in prior articles and made the cover of at least one 4×4 magazine.
Freibuger gives props to the new owner for bolting on a Holley Off-Road Truck Avenger carb. The truck will be featured later in an upcoming episode of "Roadkill Garage."