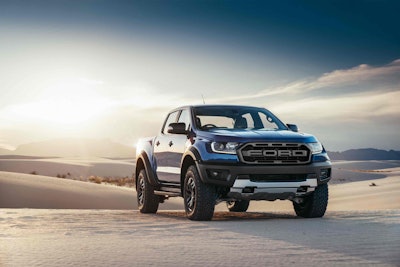 Ford unveiled its first Ranger Raptor today in Thailand and it features a small diesel engine that's big on torque.
The truck, which will be marketed in the Asia Pacific region, comes with an all-new 2.0-liter twin-turbo diesel rated at 211 horsepower and 369 lb. ft. of torque and mated to Ford's 10-speed transmission.
"We are so excited and proud to unleash this vehicle to the public, driving it really makes you feel like a hero," said Jamal Hameedi, chief engineer, Ford Performance. "The Ford Performance team is excited to extend the Raptor name from our flagship off-road performance F-150 to Ranger. Just like the F-150 Raptor, the Ranger Raptor builds upon the core capability of the range of vehicles it comes from and carries the unmistakable Ford Performance DNA appearance."
Some styling cues, such as the grille, were borrowed from Ranger Raptor's big brother, the F-150 Raptor.
The truck has a long list of head-turning features, including a frame mounted front bumper with LED fog lamps and functional air-curtain ducts which help reduce air resistance.
Composite front fenders, flared for long travel suspension and oversized tires, are designed to resist dents and dings.
The truck's step boards were designed specifically to prevent rock spray from hitting the rear of the truck and the holes have been designed to drain sand, mud and snow. High-strength aluminium alloy die-cast main step board is designed for durability.
At the rear, a modified rear bumper comes with an integrated tow bar and two recovery hooks rated at 4.1 tons. Towing is rated at 5,511 pounds.
Ranger Raptor gets a new unique frame designed for high speeds off road. A new coilover rear suspension uses a Watt's link setup with solid rear axle.
Two recovery hooks rated at 4.96 tons can be found at the front, plus reinforced spare tire mounting cross-members for the larger 17-inch Raptor rims which are wrapped by all-terrain BF Goodrich 285/70 R17 tires.
The interior features blue stitching and leather accents. Lightweight Raptor magnesium paddle shifters are mounted near the perforated leather hand grip sections on the rim of the steering wheel. The rearview camera displayed on the eight-inch color LCD screen is matched with the rear parking sensors.
Position Sensitive Damping (PSD) shock absorbers (dampers) provide higher damping forces at full jounce and rebound to enable better off-road capabilities, and lower damping forces in the mid-travel zone are designed for smooth on-road driving.
But it's off-roading capabilities are what really stand out for Hameedi.
"It is amazing to enable this level of performance and create a vehicle that can provide off-road enthusiasts such an adrenaline rush," said Hameedi. "It really is like a motocross bike, snowmobile and an ATV rolled up into a pickup truck—it's an incredible, awesome experience!"
The Ford Ranger Raptor will be produced in Ford Thailand Manufacturing (FTM). No word yet on when a Ford Ranger Raptor might be coming to North America.
"Today's announcement is about the launch of the new Ranger Raptor in Asia Pacific markets. We'll have more to share about Ranger Raptor at a later date," Ford North America Product Communications Manager Mike Levine wrote on Twitter when asked when Ford might be bringing a Ranger Raptor to the U.S.