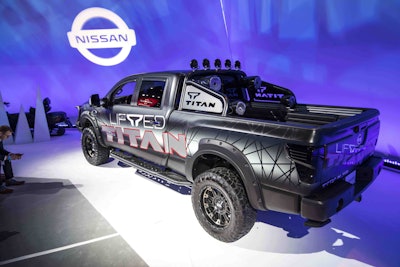 Nissan announced today at the Chicago Auto Show that it will be offering a factory-authorized suspension lift kit for select models of its Titan and Titan XD full-size pickups.
The bolt-on kits, developed by California-based ICON Vehicle Dynamics, offer increased ground clearance and a suspension lift of up to three inches. The lift kits will be available beginning spring 2018 for Titan and Titan XD Crew Cab 4×4 models.
"We worked with ICON, a proven name in suspension lift-kit engineering, to develop the first kits to be offered through our Nissan dealer network," said Billy Hayes, division vice president, LCV and Trucks, Nissan North America, Inc. "They came back to us with a kit that is easy to install, maintains Titan and Titan XD's impressive factory payload and towing capabilities, and allows the trucks to be returned to stock for resale or end-of-lease return."
The ICON suspension lift kits include adjustable-height coil-over shock absorbers tuned specifically for Titan and Titan XD, custom rod end bearings and patent-pending Delta Joints. No cutting or drilling is required.
"With the suspension lift kit's increased wheel travel and damping ability, ride quality should be enhanced both off-road and on," added Hayes. "Titan and Titan XD are the most accessorized models in the entire Nissan lineup and the ICON kits are a great addition."
Every 2018 Titan and Titan XD is covered by Nissan's America's Best Truck Limited Warranty, which features bumper-to-bumper coverage for 5 years/100,000 miles, whichever comes first. Consumers can see their dealer for limited warranty details. The ICON suspension lift kit is covered by a separate warranty offered by ICON Vehicle Dynamics.