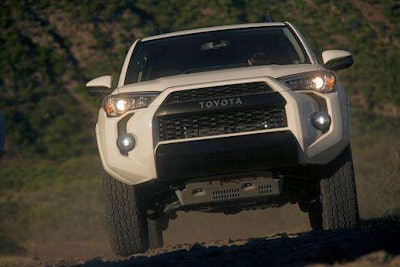 Toyota paid tribute to its off-road racing experience today during the unveiling of its 2019 TRD Pro lineup at the Chicago Auto Show.
The latest TRD Pro packages for Tundra, Tacoma and 4Runner, which go on sale this fall, will feature Fox internal bypass shocks tuned by TRD engineers.
"These are not some kind of off-the-shelf part, folks," Jack Hollis, group vice president at Toyota Motor Sales, told reporters during this morning's livestream reveal. "These are tailor made. Lessons learned in racing led to the technology that you're going to see here today."
Indeed, Toyota is no stranger to off-road racing. The OEM, which began offering performance packages in 1979, has been so involved in the Baja 1000 that during a video at today's reveal it gave credit to the grueling race for inspiring the creation of its TRD Pro lineup.
(TRD supported off-road legend Ivan "Ironman" Stewart for 30 years on his path to multiple championships and race victories in Baja, U.S. off-road desert and short-course off-road races. TRD most recently celebrated CJ Greave's 2017 Pro 4 Championship in The Off-Road Championship Series (TORC) and Martin Truex Jr.'s win of the 2017 Monster Energy NASCAR Cup Series Championship).
You can't help but notice the all-new air intake snorkel on the 2019 Tacoma TRD Pro. Hollis explained it was designed to rise above the dust while off-roading. While Baja is known for its huge, lingering rooster tails, you won't exactly find dust plumes like that rising from Georgia's red clay or other such areas steeped in humidity. But, if you find yourself in deep water—no matter the region—a snorkel can come in handy. Just keep in mind that Toyota calls its snorkel a TRD Desert Air Intake and thus far neither Hollis nor Toyota has mentioned using its new hardware in water.
"I'm pretty sure we're the first to offer that," Hollis said of the snorkel. "And I'll call that innovation."
The Tacoma's snorkel will be joined to a 278-hp 3.5-liter V6.
Though the 2019 Tundra TRD Pro will not get a snorkel, it will get a hood scoop. Both trucks will get new black chrome exhaust tips.
For Hollis, the new suspension for the TRD Pro lineup was definitely a highlight. The entire TRD Pro family rides on 2.5-inch TRD Pro-exclusive, aluminum-bodied Fox Internal Bypass shocks.
Whereas off-road race vehicles traditionally have external bypass tubes on their shock bodies to fine-tune damping pressure, each high-tech Fox shock compactly incorporates bypass zones inside of the shock. These multiple bypass zones offer a cushioned ride during typical operation but get progressively stiffer through the shock stroke to provide improved bottoming resistance.
The front shocks are paired with specially-tuned TRD springs designed for ride comfort and to also produce additional lift, giving each TRD Pro a heightened stance for improved trail riding. A combination of high-temperature shock fluid and nitrogen gas pressure are employed inside each Fox shock to improve bump compliance and to help maximize seal life. Every TRD Pro model features rear 2.5-inch Fox shocks that utilize a piggyback reservoir to house additional oil volume, which assists in maintaining peak damping performance during extreme use.
Also, new for the 2019 Tundra TRD Pro pickup are Rigid fog lights and 18-inch BBS forged-aluminum, five spoke satin black wheels which shed a total of 13.4 lbs. They're wrapped in Michelin P275/65R18 all-terrain tires.
Another change for Tacoma is the offset of the 16-inch TRD Pro black alloy wheels, which provides a 1-inch wider track both front and rear for added stability. Trail and pavement traction comes in the form of P265/70R16 Goodyear Wrangler Kevlar All-Terrain tires.
Each truck will be offered in three colors: Super White, Midnight Black Metallic or Voodoo Blue, the same color used on Toyota's FJ Cruiser.