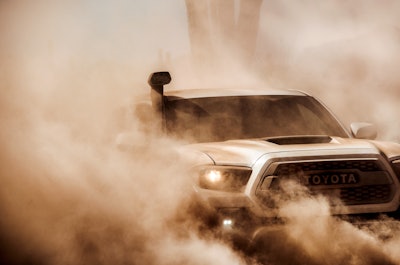 Toyota 2018 Chicago Auto Show teaser of its 2019 TRD Pro with a snorkel.
Ram and Toyota both announced that they'll be livestreaming product presentations this week at the 2018 Chicago Auto Show.
Both the media and the public are invited to watch a live online webcast of the Ram and Mopar product presentation this Friday, February 9 at 10 a.m. CST. Click here to catch all the action: https://livestream.com/fcalive/mopar2018chicagoautoshow.
Toyota writes in its press release, "Breathe easy, the 2019 TRD Pros are almost here," and with a snorkel, no less, according to the teaser photo shown above. Watch their 9 a.m. CST presentation live on Thursday at https://livestream.com/toyota/chicago2018.
HWT reached out to Ford, Nissan and GM to see if they had any livestream events planned at CAS. Ford responded and said that they will not be livestreaming their press conference. Nissan and GM did not reply by press time.
The Chicago Auto Show will be held at McCormick Place on Lake Shore Drive. Media preview days take place Thursday and Friday while the show runs from Saturday, Feb. 10 through Monday, Feb. 19.