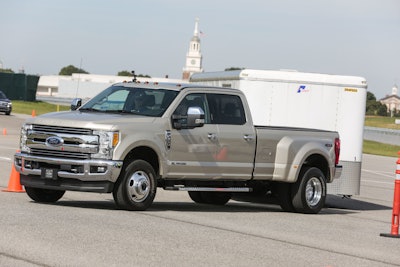 Magna announced today that its electronic driver assistance system available on Ford F-Series pickups has been named as a finalist for the 2018 Automotive News PACE Awards.
Magna's trailer angle detection technology provides the foundation and enables the Trailer Reverse Guidance and Pro-Trailer Backup Assist systems jointly developed by Magna and Ford.
Image-processing software determines the angle between truck and trailer and provides the most appropriate view to the driver, depending on the trailer's trajectory. High-resolution cameras and color-coded diagrams of the truck help warn the driver of potential jackknife conditions. Additional technology shows the driver the required steering wheel movement for reversing in a straight line.
"Ford approached Magna to develop a solution for customers for whom trailering and towing is a priority," said Swamy Kotagiri, chief technology officer at Magna. "We are proud to support Ford with this innovation to make trailering safer and more convenient, and for this recognition as a PACE Award finalist."
The Magna camera-and-software technology helps make Ford's F-Series trailer assist systems exclusive in the pickup truck segment and best-in-class for any vehicle segment. Magna and Ford have multiple patents on the trailer angle detection and guidance technology.
The Automotive News PACE Awards celebrate automotive suppliers' innovations in products, manufacturing processes and information technology. PACE Award winners will be announced at the 24th annual Automotive News PACE Awards ceremony on April 9, 2018, in Detroit, Mich.