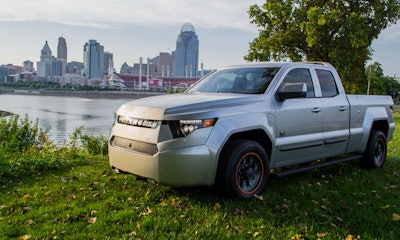 Workhorse announced today that it has applied for a loan of $250 million from the Department of Energy's (DOE) Advanced Technology Vehicles Manufacturing (ATVM) Loan Program for the production of its W-15 electric plug-in pickup.
Workhorse reports that its application is complete enough for the DOE to begin its preliminary evaluation, which includes examining technical, financial and legal issues.
During its debut in May at ACT Expo in Long Beach, Workhorse reported that the four-wheel-drive 75 MPGe pickup has a range-extending BMW I3 engine that offers up to 28 MPG highway and 32 city. The truck's low emissions plus its $52,500 sticker has attracted fleets.
"Workhorse has received letters of intent to purchase more than 5,000 W-15s, which we believe demonstrates that fleets are eager to incorporate range-extended electric pickup trucks," said Workhorse CEO and President Stephen Burns. "We are designing our W-15 to be the most economical, the greenest and the safest electric pickup in America's automotive market today."
There are still "a significant number of additional milestones" Workhorse says it has to reach prior to receiving a conditional commitment and any final loan agreement.
In addition to the DOE loan, Workhorse is pursuing other sources of financing to equip its manufacturing plant in Union City, Indiana.
The DOE's ATVM program makes direct loans to re-equip, expand or establish manufacturing facilities in the U.S. to produce qualifying light-duty vehicles or components that provide meaningful improvements in fuel economy performance in accordance with applicable laws and regulations.
The program has issued loans for projects run by Tesla, Ford and Nissan. DOE reports the program has supported 35,800 permanent U.S. jobs, saved more than 287 million gallons of gasoline annually, and prevented more than 2.5 million metric tons of CO2 emissions annually.
Although President Trump's America First – A Budget Blueprint to Make America Great Again, dated March 16, 2017, proposed to eliminate the ATVM program, its long-term future is subject to congressional action on Fiscal Year 2018 appropriations.
The W-15 is the first electric pickup truck available to commercial customers from an American original equipment manufacturer.
"There is an enormous void of alternative-fuel pickups in the truck market, and the time is right to introduce the W-15," Burns said. "Securing the ATVM loan would help Workhorse bring the W-15 to market faster to meet the needs of fleet managers who are demanding a fuel-efficient pickup truck that gets the job done."