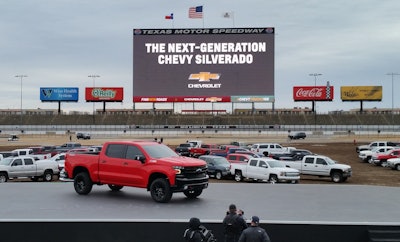 "No it's not."
"Holy crud."
Those were just a couple of the exclamations coming from the stands as Chevy introduced its 2019 Silverado by way of helicopter at the Texas Motor Speedway over the weekend.
The only thing missing was Wagner's "Flight of the Valkyries."
Even without Wagner, it was still an impressive and unforgettable debut as hard rock played and a helicopter bearing the Chevrolet name began lifting into view on the other side of this vast stadium above the world's largest HD screen, Big Hoss TV.
It's Texas and it's Chevy Trucks' centennial. So go big, or go home.
The red Silverado was gently lowered onto the infield near 100 other Chevy trucks representing decades of Bowtie production. The trucks had all been lined up neatly in a giant '100' which a drone displayed on Big Hoss for everyone to see.
The 2019 Silverado ZLT LT Trail Boss was driven from the infield onto a platform where the press and Chevy's invited guests, many of them Chevy Truck Legends members, could get a closer look—but not that close. We all had to stay in the stands. Alan Batey, Chevrolet North American president and global head of the brand, then introduced what he called a "badass" pickup.
"Ladies and gentlemen, think about this as a whole new truck 100 years in the making," Batey said from the stage. "It combines what we have learned, building 85 million Chevy trucks with feedback from more than 7,000 truck people like you on what they wanted in their next Silverado."
Though Batey didn't offer up a lot of details—more info is coming next month at the North American International Auto Show in Detroit—he did say that the 2019 Silverado "uses a more stronger, more formed steel alloy for the bed floor contributing to a cargo box that is both lighter and even more functional than ever before…"
There was no mention of a carbon fiber bed which the Wall Street Journal, citing inside sources at GM, recently reported would be available in the next two years on GM's premium pickups. Interestingly enough, the 2014 Chevy Silverado Cheyenne Concept with a carbon fiber bed was made available for reporters to drive, along with other notable pickups earlier on Saturday near the race track.
Perhaps hinting at future truck bed challenges which went viral on YouTube last year, Batey said of the 2019 Silverado:
"The next generation Silverado will be subjected to the most aggressive testing ever in our history because we know work comes first for you."
Batey also announced that more options are coming for the 2019 model.
"The new Silverado will offer more models and more engine/transmission combinations and more features to help you find your ideal truck," Batey said. "This behind me is the 2019 Silverado LT Trail Boss. It combines the off-road equipment of the Z71 package with a two-inch suspension lift right from the factory and unlike aftermarket lift kits the Trail Boss off-road equipment is fully tested, validates and warranted by Chevrolet."
That sentence about "more engine/transmission combinations" is definitely attention-getting. It's no secret that GM is breaking out its 10-speed transmission that it developed with Ford. The real question centers on diesel.
Ford will soon be churning out a diesel-equipped 2018 F-150. Ram's EcoDiesel has proven popular in its 1500. And Nissan stepped up with its Cummins-powered Titan XD.
If GM opts to put an oil burner under the hood of its 1500 Silverado, it would certainly turn a lot of heads if it opted for a two-stroke.
Achates Power in San Diego, which teamed up with Cummins to build a two-stroke diesel for the U.S. Army, announced earlier this year that it will be debuting a light-duty two-stroker in a ½-ton pickup at the North American International Auto Show in January. HWT asked Achates what pickup they'll be using, but they won't talk at this point.
Prior to the reveal, NASCAR great Dale Earnhardt Jr. brought his first truck onto the stage, a 1988 Chevy S-10. During an interview with Chevy vice-president Jim Campbell, Earnhardt Jr. talked about getting the truck at age 16 followed by another S-10 a few years later. (See photo below.)