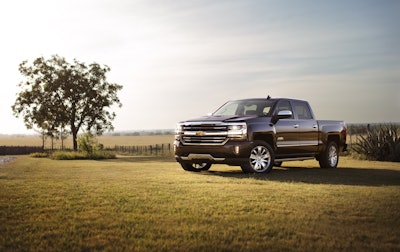 Roughly two years after GM rolled out its mild hybrid pickups exclusively for the Southern California market, the automaker is now offering the fuel-saving option nationwide for model year 2018 Chevy Silverado.
GM reports that eAssist's lithium-battery based technology, borrowed from the Chevrolet Volt and Malibu Hybrid, achieves up to 13 percent greater city fuel economy. The option has an MSRP of $1,125 with an incremental $2,000 incentive.
Before we offer up some more background on eAssist, here's a review of what's new for 2018 Silverado:
Custom now offered on crew cab
Exterior colors: Cajun Red Metallic and Havana Metallic
eAssist package now offered on LTZ in addition to LT; national availability
Tire pressure monitor system now includes tire fill alert
Rear-vision camera now standard on all models
MyLink 7-inch radio system now standard on WT model
The eAssist powertrain is a light electrification system leveraging GM's latest technologies. It builds on the advanced technologies of the 5.3L V8 engine, including direct injection, variable valve timing and Active Fuel Management (cylinder deactivation), complementing them with a compact lithium-ion battery pack to enhance efficiency.
Additional fuel savings are achieved by turning off the engine when stopped at a stop light or heavy traffic and restarting the engine when the driver lifts his or her foot from the brake pedal.
The on-board electric motor provides a power boost during acceleration and passing, while enabling the engine to operate in four-cylinder mode for longer periods, for additional fuel savings.
By using the on-board electric motor as a generator, the energy recovered while braking is converted to electricity to recharge the onboard battery system.
A 6-percent improvement in aerodynamics contributes to fuel economy due to a standard soft tonneau cover and automatic grille shutters, which can close at speeds over 30 mph in order to further reduce drag and fuel consumption.
The eAssist system includes a 24-cell, air-cooled 0.45 kWh lithium-ion battery pack, located under the center console or front bench seat. It adds only about 100 pounds to the vehicle's curb weight.
A compact induction motor, located on the accessory drive, provides 15 kW of peak regenerative capability, thanks to advanced software controls based on the Chevy Volt. It performs like an electric torque booster, providing up to 44 foot pounds and up to 13 horsepower of additional boost in high load situations. There's also a liquid-cooled power inverter module located under the hood.