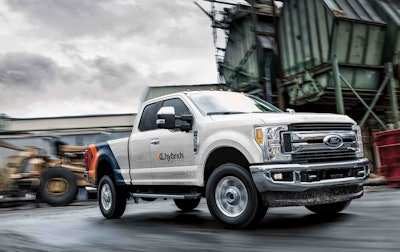 XL Hybrids announced today the industry's first hybrid Ford F-250 for fleets striving to improve fuel efficiency and reduce emissions.
The XLH hybrid-electric 2018 F-250, available in 2- or 4-wheel drive, offers up to a 25 percent increase in fuel efficiency and up to an additional 250 lb.-ft. of torque. The Ford-approved hybrid will be displayed alongside XL Hybrid's plug-in hybrid-electric F-150 at next week's Work Truck Show in Indianapolis.
"Ford trucks are in high demand by XL's fleet customers, so we developed our hybrid-electric upfit solutions for both the F-150 and F-250 pickup to support needs for power, payload, as well as better fuel economy," said Clay Siegert, chief operating officer for XL Hybrids. "We recently surpassed a landmark 60 million total combined customer road miles, and our experience in successfully supporting leading fleets informs our product roadmap. We continue to be focused on delivering the most seamless, cost-effective fleet electrification solutions for OEM vehicles that our customers ask for."
Cargo and towing capacities for the hybrid F-250 remain unchanged and the system is available for all wheelbase, cab and bed size configurations. Production will begin in March.
XL Hybrids also announced increased compatibility with more F-150 models, including SuperCrew cabs. XL now offers fleets XLP PHEV upfits, which provide a 50 percent improvement in fuel efficiency on Regular Cab, SuperCab and SuperCrew configurations for the F-150.
Installation of XLH hybrid and XLP plug-in systems are completed in just hours on pickup trucks as a Ford ship-thru upfit. Fleets will maintain the complete OEM warranty and receive a three-year, 75,000-mile warranty from XL on the hybrid powertrain.
XLH and XLP will also include the XL Link cloud-based big data analytics system, which collects millions of operational data points, measuring MPG performance, reporting carbon dioxide emissions reductions and other key performance indicators. Emissions reductions coincide with fuel efficiency gains. For instance, a 50 percent increase in fuel efficiency equates to a 50 percent drop in emissions.
Ford will be showcasing a third XL truck in its booth (#3239) at the NTEA Work Truck Show, an XLP plug-in hybrid-electric F-150. Last year, XL Hybrids became the first-ever company to be recognized as an Electrification Qualified Vehicle Modifier (eQVM) in the new Ford certification program. The company also recently announced its latest executive order from the California Air Resources Board (CARB) which has approved XL-outfitted PHEV Ford F-150 pickup trucks for sale in the Golden State, an industry first.
Clay Siegert will also moderate a panel at the NTEA Work Truck Show featuring representatives from Verizon's and Sempra Utilities' fleet teams to discuss "Identifying Fleet-Ready Technologies to Avoid Risk when Deploying Electrified Vehicles" at 9:30 a.m. on Thursday, March 8.
In the meantime, check out the webinar below in which Siegert and David Breault, XL Hybrids director of sales, offers insights into fleet electrification.