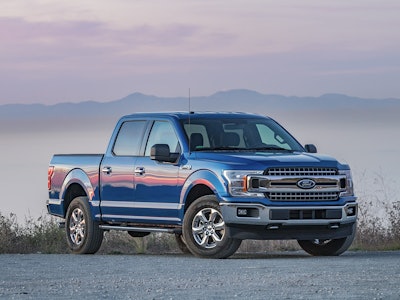 Kelley Blue Book announced today that the 2018 Ford F-150 has won its 2018 pickup truck Best Buy Award.
"For four years straight, the Ford F-150 has taken the pickup truck honors in our Best Buys competition," KBB states in its press release. "And, for four years straight, nobody else has come close to toppling it."
KBB cites several reasons for Ford's ongoing success.
"Ford's move from steel to aluminum now seems prescient. Sales continue to grow, and Ford continues to offer a version of the F-150 for virtually every need and budget," KBB continues. "Want a stripped-down truck for your plumbing business fleet? Look no further. Need a 'cowboy Cadillac' to look good in town when you're not towing your boat? Check. The Ford F-150 has you covered at both ends, and with virtually anything in between."
This year, Ford updated the styling, added a new base engine, expanded the availability of its 10-speed automatic, and promises to add a turbodiesel to its lineup of engines later this model year.
Powertrain
KBB points to Ford's significant updates to its F-150 powertrains this year, including a new 3.3-liter V6 base engine in place of the old 3.5-liter. Other engines under the hood include the 2.7-liter EcoBoost, 3.5-liter EcoBoost and 5.0-liter V8, all bolted to Ford's class-exclusive, 10-speed automatic transmission.
"They're all solid powertrains, and even the new base V6 can tow up to 7,700 pounds," KBB reports. "However, it's the two turbocharged V6 engines that earn the spotlight here. The bigger 3.5-liter EcoBoost V6 pumps out horsepower that nearly equals the big V8, torque that handily beats it, and all with notably better fuel economy."
KBB tested a Lightning Blue F-150 SuperCrew XLT with a 2.7-liter EcoBoost V6 which it says "leaves very little on the table." Improvements like additional torque, now at 400 lb.-ft., equals the twisting force of the V8.
"Coupled with the 10-speed automatic, the 2.7-liter V6 feels light on its feet and genuinely quick, yet delivers impressive fuel economy, with an EPA-estimated 20 mpg in the city and 25 mpg on the highway," KBB writes.
"Unless you plan on towing big loads frequently, the F-150 can haul a best-in-class 13,200 pounds when properly equipped. The 2.7-liter engine is easily worth the extra $995 over the price of the base engine."
Read the rest of KBB's report on the 2018 F-150 on its website.