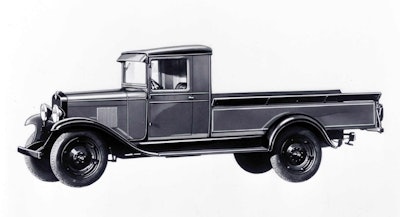 One-hundred years ago, Chevy's 1918 One-Ton truck came equipped with a 2.8-liter engine that offered 45 lb. ft. of torque.
Roughly 85 million pickups later, Chevy, like its competitors, is offering much more torque in its trucks.
To help appreciate the evolution in the twisting force that makes hauling and towing possible, Chevy offered up today an interesting retrospective on one of the most important measurements in pickup capability. Plus they provided a bunch of great pictures looking back at 100 years of Bow Tie truck production. (The 1955 Chevrolet 3100 Series Cameo Carrier half-ton has got my vote for best-looking truck of the bunch.)
"Chevrolet Trucks have pulled their weight for a century," said Dan Nicholson, vice president, Global Propulsion Systems. "Nobody does torque like Chevrolet and generations have counted on our trucks to get the job done confidently."
Chevy Trucks have come a long way from the 1918 One-Ton model. Its closest contemporary is the mid-size Colorado equipped with a standard 2.5-liter engine. However, that truck blows its 100-year-old predecessor away with 191 lb.-ft. of torque, or 76 lb.-ft. per liter — a 480 percent increase over the 1918 engine.
At the far end of the spectrum is the contemporary Silverado 3500HD one-ton truck, with the available Duramax 6.6-liter turbo-diesel V8. Its 910 lb.-ft. of torque equates to an incredible 138 lb.-ft. per liter, for great trailering confidence even on tough grades.
"Technological advances such as direct injection and turbocharging help contemporary Chevy Truck engines deliver more torque per liter of displacement than ever," says Nicholson. "That means customers can do more and haul more than ever."
The increase in Chevy Truck capability has been driven over the decades by the enduring performance of several landmark engine families sharing an overhead-valve architecture that contributes to signature low-rpm torque production, reduced complexity and compact packaging.
As the brand celebrate 100 years of trucks, here's an overview of the most significant milestones in Chevrolet torque.
1929: The First "Stovebolt" Six
Introduced in 1929, Chevrolet's first overhead-valve inline-six engine brought big torque to the masses. Displacing 194 cubic inches (3.2-liter), its all-new design helped generate strong torque at low rpm: approximately 120 lb.-ft. at only 800 rpm. That allowed Chevrolet to increase its work-truck load rating from 1 ton to 1.5 tons. The Stovebolt nickname was based on external fasteners that resembled the bolts on wood-burning stoves, but it quickly became synonymous with the engine's durability. Several generations of Chevrolet's overhead-valve straight-six engine were developed from the original design and served in Chevy Trucks through the late 1980s.
1955: The First Small Block V8
Chevrolet introduced its revolutionary overhead-valve V8 engine, later to be dubbed the Small Block, in the 1955 "second series" truck lineup. That original 265-cubic-inch (4.3-liter) engine produced 238 lb.-ft. of torque at only 2,000 rpm and evolved into one of the industry's most enduring engine architectures. About a decade after the Small Block was introduced, Chevy's Big Block engine family — also an overhead-valve design —debuted, elevating capability to an unprecedented level for gas-powered trucks. The Small Block is currently in its fifth generation in 2018 Chevy Trucks, while the original Small Block and Big Block families live on as performance crate engines.
1987: Technology Helps Build Torque and Increase Efficiency
Until the early '70s, increased displacement and higher compression were easy ways to build more horsepower and torque. That changed with industry mandates that dramatically affected traditional power-building techniques. Chevrolet traded high compression for high technology, developing electronic fuel injection that helped restore the torque of previous years with greater efficiency. Torque in the Small Block engine returned to 300 lb.-ft. in 1987 and got another 10 percent increase a few years later, with the 5.7-liter Vortec Small Block. Today the available 6.2-liter Small Block in the 2018 Silverado 1500 is rated at 460 lb.-ft. of torque, thanks to technologies including variable valve timing and direct injection, giving it the highest torque rating of any light-duty pickup V8 engine.
2001: The Modern Diesel Era Begins with Duramax
Introduced in 2001 for Chevy's HD trucks, the Duramax 6.6-liter turbo-diesel, with overhead valves and 520 lb.-ft. of torque, was an all-new design that established a new era of capability. Technological advances pushed its output higher, and today the second-generation iteration available in the 2018 Silverado HD lineup offers 910 lb.-ft. of torque — a stunning 75 percent leap in torque from the same 6.6-liter displacement as the original, which re-set the performance bar for HD trucks. Car and Driver recorded 0-60 mph in 6.2 seconds in a Duramax-powered Silverado, the quickest time it's tested for an HD truck, while TFLTruck recorded a climb up the Eisenhower grade in Colorado in 10:16.99 minutes. That was about 12 seconds faster than the nearest one-ton competitor, with each pulling 22,800 pounds.