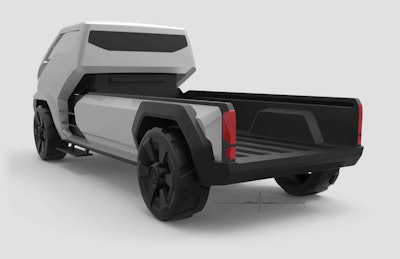 While no one knows for sure what a pickup might look like in the future, it still can prove really interesting to hazard a guess.
Enter the 2018 Michelin Challenge Design: "Mobility/Utility/Flexibility — Designing for the Next Global Revolution."
Works by individuals and teams of designers from Argentina, Brazil, China, France, India, Italy, Poland, Saudi Arabia, South Korea, United Kingdom and the United States were among the winners and finalists selected by a distinguished jury of the world's top automotive designers and industry experts. Plenty of pickup designs poured in from around the world.
"Once again, our jury of top automotive designers was impressed by the creativity, innovation and quality of the entries," said Thom Roach, vice president of original-equipment marketing for Michelin North America. "The biggest surprise was the interest in pick-ups, or open-bedded vehicles, from so many unexpected places and how designers saw the opportunity for such vehicles to meet the needs in their respective countries or regions."
First place went to Josh Sandrock of San Diego, Calif., for his design entry "Volkswagen Type 10 Pick Up." Sandrock, who's studying Transportation Design at Art Center College of Design, landed an exterior design internship at Volkswagen Design Center California during the summer of 2017.
The Volkswagen Type 10 PickUp is a concept that aims to increase functionality and use of a single vehicle. The modular pod system is designed to give customers the opportunity to change the truck bed to meet the needs of its desired use. Pods can range from a standard truck bed, to an enclosed freight style cargo container. Its standard 10-foot long bed is only a 1/2-foot shorter than the bed on the Mercedes Unimog.
The vehicle is intended for personal and commercial use in North America, where pickups are the top selling vehicles. The Type 10 PickUp introduces a new segment that does not compete directly with any existing vehicle. Michelin reports that the vehicle is bigger and more capable than any existing American pickup–at least on paper.