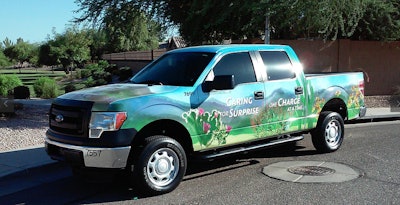 Hmmm….a Ford F-150 with over 2,000 foot-pounds of torque?!
Yes. Arizona start-up Torque Trends is offering an electric conversion for a 2011-2017 two-wheel-drive F-150 that offers plenty of power along with a 75 percent reduction in fuel costs, 60 percent reduction in maintenance, 50 percent increase in service life, increased safety and zero emissions.
It's pretty simple, Torque Trends CEO Mitchell Yow told Hard Working Trucks. An electric powertrain is much more efficient than an internal combustion engine and has fewer moving parts which translates into far less wear and tear.
"This is built to last 15 years," Yow explained recently at 2017 ACT Expo where an F-150 his company had converted for the City of Surprise, Ariz. was on display. "We added 50 percent to the service life and that's really where you get the payback. If you keep that vehicle in the fleet for 15 years, you've paid for it several times over. It's real gravy. And why not? We've got a motor that's got one moving part. This is innovation simplified.
"The motors are so efficient, you don't need multiple gears to try to get some efficiency out of an inefficient motor. A gasoline motor is roughly 30 percent efficient. They keep adding gears (to transmissions) to try and pull more efficiency out of that motor. But when you've got a 95 to 98 percent efficient electric motor in an urban environment, one gear is all you need."
Torque Trends' pickup, while impressive, raises the usual concerns about going electric: shortened range, loss of payload owed to battery weight and cost.
The ev-TorquePack conversion package is priced around $40,000. Cost fluctuates depending on volume. The kit, which comes with plenty of instructions, can be installed by two mechanics in two days.
ROI will vary depending on duty cycle, but Yow said the truck will pay for itself several times if its kept in operation for its intended 15-year service life.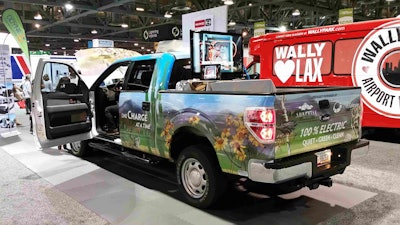 Yow's wife, Grace Yow, Torque Trends' chief financial officer, said the truck uses lithium iron phosphate batteries, the same used by BYD, the world's largest manufacturer of electric vehicles.
"It's the safest and the most stable so far," Grace said of the battery type. "We're not married to the battery. We can do any battery. The technology in batteries is changing fast, so that pretty soon they will be cheaper and more compact. But even at this stage, most of the fleet vehicles only run 50 miles a day. We have a big enough market."
Range is around 50 to 75 miles, depending on terrain and vehicle use. More batteries can be added to increase range up to around 100 miles, but that adds more weight which effects vehicle payload and MPGe efficiency.
The electric F-150 used by the City of Surprise, Az., is about 500 pounds heavier than its gasoline counterpart, with 100 additional pounds on the front axle and 400 pounds on the rear. However, the additional weight of the batteries, which are positioned beneath the cab, offers some safety advantages.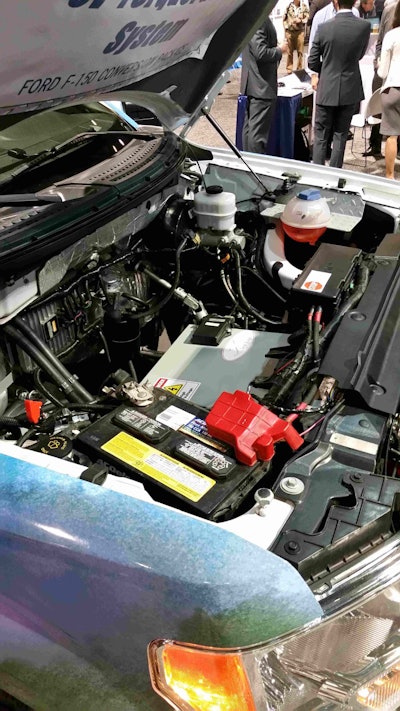 "For most people who have a pickup truck, their driving is with a front-heavy vehicle because they design the truck to have a payload or to pull a sizable trailer, but most people aren't doing that most of the time," Mitchell Yow said. "So most of the time it's front-heavy and that effects ABS. It effects your stopping distance. It effects a lot of things, really. What we've done here is lower the center of gravity, so it handles better. We better balanced the weight in the truck so that the stopping's actually better. We've got regen braking which helps with the stops, too. We've got a better crunch zone; it's a safer truck that way. It handles better. It's safer that way."
During preliminary 60mph-to-zero panic braking tests, Mitchell Yow said the truck stopped 15 feet shorter than the gasoline version. "Whose kid was in that 15 feet? We're really happy about that," he said.
The small electric motor takes up less space under the hood and offers a larger and safer crumple zone. The truck can be configured with A/C and heat, all of which will effect range. It takes about six to seven hours to recharge the truck on 110 volts. Shorter charging times can be realized through a higher voltage, but the battery's overall lifespan will be shortened through higher charge rates.
The truck has a maximum speed of 65mph. Torque, which is rated at 2,135 foot-pounds, can be adjusted along with regenerative braking.
It can be driven as a one-pedal truck, Mitchell Yow said, referring to its regenerative brakes which can be adjusted to the point that the driver need only to lift-up his foot from the accelerator and allow the brake system to bring the truck to a stop while approaching intersections. A higher regenerative brake setting results in a higher charge, but some drivers may prefer a more conventional brake setting.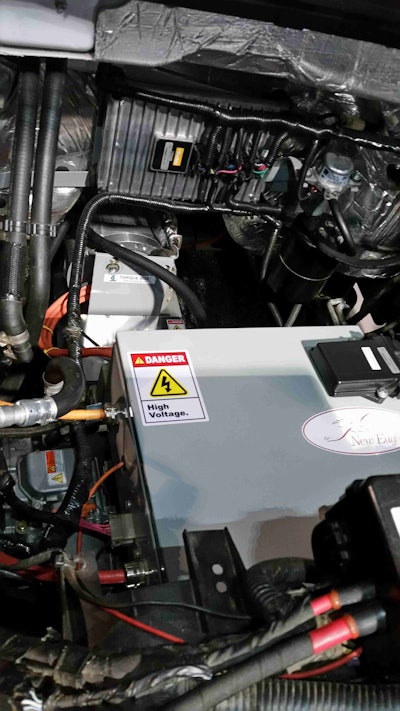 Mitchell Yow said that next month his company will begin converting Chevy Silverados for Norway. "We're going to do 50 brand new Silverados for Norway Airport. The government owns 50 airports. We're to start our trial in Oslo."
Norway will be converting 2,450 more Silverados to run on electric drivetrains over the next three years, Yow said.
Opportunities with utilities in the U.S. look promising.
"There are over 70 power company consortiums in the country. Edison Institute has committed to DOE 10 percent of their new vehicle purchase budget to green their fleets moving forward," Mitchell Yow explained.
That amounts to about $180 million a year toward buying alt fuel vehicles and supporting infrastructure. Yow said he's also encouraged by the VW emissions lawsuit settlement which will provide nearly $3 billion to states to purchase low emissions technology.
The City of Surprise, Az. is pleased with its electric F-150.
"The City of Surprise is very excited to have a fully electric, zero emission service truck in our fleet. Converting a new Ford F-150 makes good business sense for the city including lower operating cost per mile, reduced maintenance costs and associated down times, and more predictable electricity costs versus the historically volatile costs of petroleum based fuels," said Mike Gent, the city's director of public works.
"However, the benefits of being an environmental leader within our community and the fleet industry really make just as much sense. As added bonuses, Torque Trends, Inc. has been a pleasure to work with and the electrified F-150 is surprisingly fun to drive!"
For more information, visit torquetrends.com.