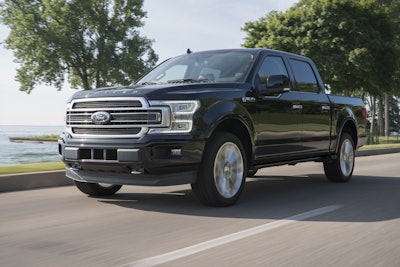 Ford's iconic F-150 is going electric.
Ford's president of global markets, Jim Farley, announced today at the Deutsche Bank Global Automotive Conference in Detroit that the best-selling F-Series line-up will be offered in electric and hybrid models.
"We're going to be electrifying the F-Series — battery electric and hybrid," Farley told conference attendees at the MGM Grand according to the Detroit Free Press.
Hard Working Trucks later confirmed through Ford that its plans for electrification include adding an all-electric powertrain option for the F-150.
"We are working on an all-electric F-150 as a new way to better serve our truck customers," said Mike Levine, Ford's manager of North America vehicle communications.
Levine said that Volkswagen would not be involved in the development of the battery-powered truck. Both companies, which have pledged billions to EV development, announced a partnership this week that will include the production of commercial trucks and vans.
While questions remain concerning payload, towing, range, charging infrastructure, battery volatility, second-life use and battery recycling, there are several advantages in using an all-electric powertrain: vast reduction in maintenance, much more powerful torque, fuel savings, zero emissions, lower center of gravity and increased traction thanks to chassis-mounted battery packs, quieter performance in noise-sensitive areas and, according to at least one EV pickup builder, improved braking.
"For most people who have a pickup truck, their driving is with a front-heavy vehicle because they design the truck to have a payload or to pull a sizable trailer, but most people aren't doing that most of the time," Torque Trends CEO Mitchell Yow told Hard Working Trucks at the Advanced Clean Transportation Expo in 2017. "So most of the time it's front-heavy and that affects ABS. It affects your stopping distance. It affects a lot of things, really. What we've done here is lower the center of gravity, so it handles better. We better balanced the weight in the truck so that the stopping's actually better. We've got regen braking which helps with the stops, too. We've got a better crunch zone; it's a safer truck that way. It handles better. It's safer that way."
During preliminary 60mph-to-zero panic braking tests, Yow said his electric F-150 stopped 15 feet shorter than the gasoline version. "Whose kid was in that 15 feet? We're really happy about that," he said.