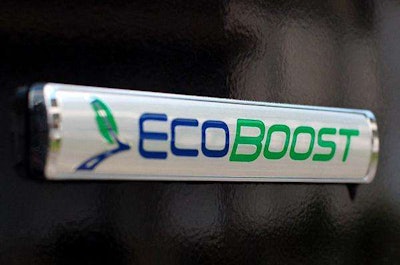 More than half of the F-150s sold this year have been powered by an EcoBoost engine, with 63 percent of August's order intake spec'd with the fuel efficient twin turbo – an 86 percent increase versus EcoBoost sales a year ago.
Since its introduction in the 2015 model year, Ford's first-gen 2.7 liter EcoBoost has already built a strong foothold, making up 25.5 percent of the F-150s sold in the first six months of the year, to the tune of 21,781 engines.
In terms of take rates, the 2.7 liter engine lags behind only Ford's 3.5 liter Ec0Boost engine (currently in its fifth model year), which has been spec'd in 29.6 percent of the F-150s sold this year, accounting for 25,322 engines.
As Ford launched its 2015 revamped aluminum construction F-150, the company offered a $300 incentive to dealers to entice them to stock the pickups spec'd with 2.7 liter engines and help offset the $795 up charge. Sales took off from there.
"What we're seeing is that base engine order is coming in with a 2.7 instead of a base 3.5," Brandt Coultas, Ford's consumer marketing manager says. "A lot of people are optioning up."
The fuel-friendly 2.7 liter has also attracted the attentions of customers in the mid-size market. While Ford doesn't have a mid-size entry, an F-150 spec'd with a 2.7 liter EcoBoost makes a strong case for customers eyeing fuel economy, with the added benefit of added cab space and towing capacity.
"Put that 2.7 up against a mid-size truck V6, and it's a pretty strong proposition," Brandt says.
Ford Motor Company delivered its best August U.S. sales in nine years on strong demand for trucks. Mark LaNeve, Ford vice president, U.S. marketing, sales and service says improved availability helped make August the strongest sales month this year for F-Series.
The popularity of Ford's EcoBoost came at the expense of the company's 5 liter engine, although only marginally. In 2014 to-date, 5 liter engines were spec'd in almost 40 percent of F-150s sold. This year, with three other engine options on the table, 5 liter order share has slid slightly to 38.7 percent, but Coultas says the 5 liter still represents about a third of F-150s engine orders.