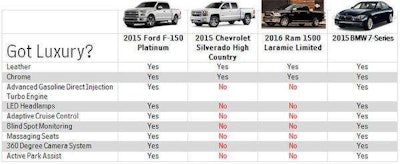 Premium trim levels have gotten the attention of buyers looking for new F-150s in 2015.
Lariat, King Ranch and Platinum trim levels make up 60 percent of 2015 F-150 retail sales. The average transaction prices for F-Series in April was $42,000 per truck, up $3,200 per truck versus 2014.
Mike Levine, Ford Motor Company Truck Communications Manager, says customers have fallen in love with segment exclusive features like a 360-degree camera, adaptive cruise and premium content.
EcoBoost V6 engines have also seized marketshare and now make up a record 63 percent of F-Series sales this year, a nod, Levine says, to EcoBoost's fuel efficiency without the sacrifice of horsepower.
F-Series, America's best-selling truck, posted an April retail sales gain of 8 percent – even with the continued plant changeover to the new F-150 and limited supply.
Kansas City Assembly, the second assembly plant building the popular new F-150, continues to ramp up production through the second quarter. Once the plant is fully online, Ford will be able to fill many fleet orders – especially the regular cab and long cargo box configurations popular with these customers.
Ford F-Series trucks sold an average of one every 41 seconds in April.
Van sales of 19,575 vehicles represent a 16 percent increase versus last year, for the best April sales performance since 1987. Sales are being driven by the best performance for Transit since the vehicle's launch last year, as well as record April sales of Transit Connect – up 8 percent.