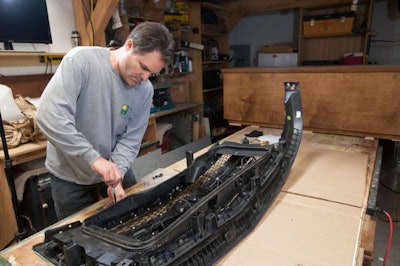 Top Tech: Viewers pick "10 Best" how-to articles that improve productivity, safety, or other such aspects of work trucks
How-To tech articles are popular among the Hardworkingtrucks.Com readers who are always looking for ways to improve their work and personal trucks.
We went back loads of how-to's to see which ones attracted the most interest over the last couple years.
Here's our "Top 10" based on most-viewed according to data from Google Analytics analysis.
1) Dual-Battery install: Give your 1/2-ton pickup the same electrical power as diesels rita a dual-bettery upgrade. This installation shows the steps and parts needed for the easy install…
2) Fender Clearance How-To: Taller, wider tires look good on pickups and their larger diameter is an easy way to gain additional ground clearance. Modify the rear of the inner fender so there's enough tire clearance to run 2- to 3-inch taller tires without using a lift kit…
3) LED Grille Install: The newest grille kit from Rigid Industries LED Lighting adds fog/driving lights for the Z71 models of the current gen Silverado in an attractive upgrade of matte black mesh with openings and secure light mounts for three of Rigid Industries' LED light bars…
4) Dually Upgrade: Big Rig 10-Lug Wheels: The fast way to convert standard 8-lug HD wheels to 10-lug 10-lug using special bolt-on adapters so you can run big-rig tires and wheels under your 3/4- and 1-ton work trucks for a more custom wheel/tire combo…
5) Heavy-Duty Winch/Bumper Install: Two primary safety and convenience accessories every heavy-duty pickup used in or around construction work should have is a heavy-duty winch and front bumper. We install a Road Armor bumper and Warn M12000 in a Ram HD…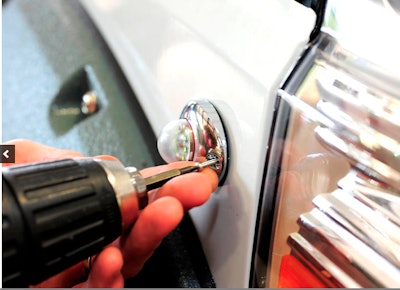 6) Installing Fender-Mounted Strobes: Side visibility is a critical aspect of work trucks and job site safety. Installing good strobes, placed on the sides of the front fenders, add safety in rain, fog, or snow. Here's how it's done…
7) Quick-Disconnect Jumper Cable Install: Having a truck set up with a quick-disconnect jumper cable system is handy for any construction work truck. This kit makes the install easy…
8) Installing Roof-Mounted Spot Lights: Remote-controlled roof-top spotlights light up the world beyond the reach or direction of conventional lights and are worth every penny spent to put them on your work truck. WE install a pair of GoLights on an F-250 Super Duty…
9) DIY Body Wrap: Turn you work truck into a rolling billboard to a advertise your business as you drive. This how-to details the vinyl-wrap installation process and gives tips on how to avoid mistakes along the way…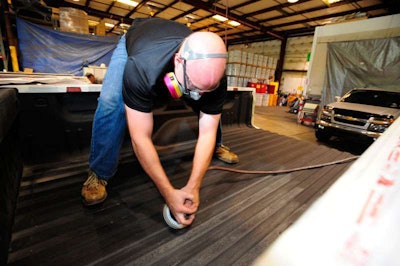 10) Renewing Old Beds: Older pickups with spray-in bed liners get a little ratty looking. We found a fast way to bring that old bring that old, faded, dinged and damaged bed liner back to new using a product called Line-X ReNew…