Big-rig-style 22.5″ wheels give custom looks while keeping heavy-duty performance intact; special adapters turn 8-lug hubs into 10-lug
When you see a Dually running big-rig-style 10-lug wheels and 35″ mud tires combined with a six-inch suspension lift every truck lover within camera range will be lighting up the social media.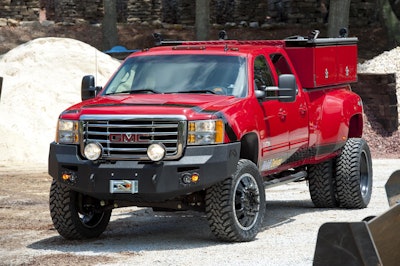 A couple years ago we built a truck that did just that when we upfitted a 2010 GMC Sierra 3500HD project truck, called "Big Red," with a six-inch Cognito suspension lift and swapped out the OE wheels for a set of 10-lug, forged-aluminum American Force Combat 22s.
Then we put on 35×12.50R22.5 Toyo Open Country M/Ts to maximize the 4×4 Dually's off-pavement work capabilities.
The conversion from OEM 8-lug wheels to 10-lug was easy: We used American Force's wheel adapters.
With the 10-lug adapters you can run big-rig tires and wheels under your 3/4- and 1-ton work trucks, or a more custom wheel/tire combo like we did on this big red Dually.
The adapters bolt to existing OE 8-lug hubs, so there's no need for additional modifications. Just bolt them on and roll with the look of a big-rig.
(Want to run big-rig "super singles" under the rear? American Force also offers those wheels as well in the same 22.5-inch lug pattern.)