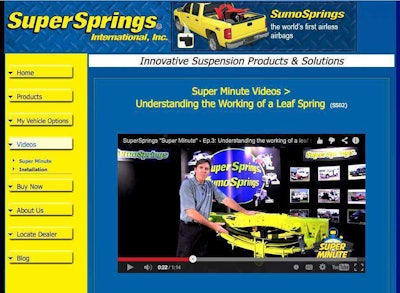 SuperSprings International says the company has created a new video series for customers looking for product details and installation advice.
The company says its SuperMinute videos cover a variety of topics in 60 seconds or less.
"Streaming video makes it easy to connect with customers and show them how our suspension-enhancing products work," says Mike Visser, SuperSprings International president. "But most people don't have 20 minutes to sit down and watch an in-depth presentation. That's why we decided to limit each video to one minute and create a whole series. Viewers can choose which to watch based on their individual needs and available time."
The SuperMinute video series currently includes 33 videos, hosted by Visser, grouped into six topical categories: general information, original SuperSprings, SumoSprings, Coil SumoSprings, SuperCoils and SuperSway-Stops. The general information videos cover frequently asked questions about gross vehicle weight rating (GVWR), payload, maintenance and warranty, while other videos address individual product features for the company's multiple suspension enhancement lines.
Each video uses a full-size pickup truck spring pack and frame section to demonstrate how each product works.