Editors of Hard Working Trucks's sister publication, CCJ, have been hard at work in recent months building a one-of-a-kind online resource featuring unbiased end-user evaluations of trucking equipment and technologies.
This week, the curtain was pulled back on CCJ Reader Reviews, which will be permanently housed on CCJdigital.com via the url CCjdigital.com/reviews.
Designed to help fleet managers and executives make smart buying decisions, CCJ's Reader Reviews provides the detailed, real-world product evaluations fleet executives have been requesting for years.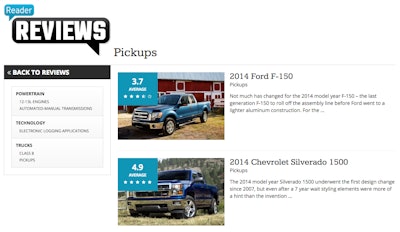 "During in-depth interviews throughout 2013, readers repeatedly told us they wanted a way to learn about their peers' experiences with various types of equipment and products," says CCJ Editor Jeff Crissey. "Reader Reviews is that resource, enabling fleet executives to get the pros and cons before they buy and to see how their own experiences stack up with fleets of similar size and operational structure."
The inaugural Reader Reviews includes the latest pickup truck models and covers a variety of makes and models of Class 8 trucks, engines and automated transmissions, as well as the most recent versions of electronic logging software. Future updates will expand coverage to more equipment and technology products and services.
To gather the reviews, CCJ editors ask qualified fleet operators to evaluate certain products they already use. Reviewers rank each truck, component or technology on specific criteria from a low of 1 to a high of 5. They can also comment on their overall experiences with the product or service.
Evaluations are collected through online surveys and interviews. Each criteria's numerical score is an average of all reviewers' criteria scores; a product's overall ranking is an average of numerical scores.
Reviewers remain anonymous, but are identified with general information on fleet size, freight type and geographic location.
In addition to regularly visiting CCJ's Reader Reviews to see new user evaluations for both existing and new products, be on the lookout for information from CCJ's Reader Reviews in many of the current and future articles that appear daily online and in CCJ's monthly print publication.
Articles that mention products by name may include the latest feedback from fleets that use them daily and be cross-referenced to the product's evaluation in CCJ's Reader Reviews. For instance, check out the latest reviews in CCJ's recently completed buying guide for electronic logging devices (ELDs) to prepare for the upcoming mandate.
As a leader in the trucking industry, we invite you to participate in this ongoing initiative. Simply click here to select the products you wish to review. It will only take a few minutes of your time. The more leaders like you that get involved, the more complete the evaluations will be.
As CCJ's Reader Reviews continues to grow, it will help everyone in the industry make more informed equipment and technology decisions and open up a whole new forum for discussion with your peers and with industry suppliers.