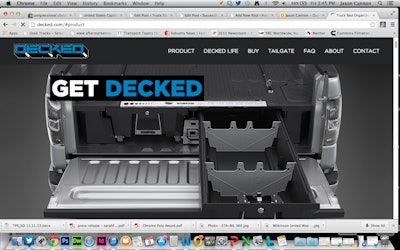 Decked, manufacturers of a new full-sized pickup truck bed storage system, announced Thursday the official launch of their full line of products and accessories which are now available for order on their website,www.decked.com, and from select dealers across the country.
Decked is a storage system that attaches to the tie-downs in a full-sized pickup truck without drilling to provide secure, weatherproof storage for gear while improving the utility and functionality of the pickup truck bed.
"A great deal of hard work has gone into creating what we think is the perfect storage solution for nearly everyone with a full-size pickup," says Lance Meller, Founder and Vice President of Sales for Decked.
Meller says he developed Decked after working out of his truck for years as an outdoor product salesman, adding he needed a better way to organize and protect his gear while still retaining the functionality of the truck bed.
Decked is a full-sized truck bed storage system that incorporates two waterproof, bed-length drawers which roll out to provide easy access to tools, equipment and additional gear. The deck of the storage system is built from 100 percent recycled high-density polyethylene co-molded to a steel sub frame providing a 2,000 lbs. load capacity.
The lockable drawers can hold up to 200 lbs. each. The system is weatherproof and the deck can be configured to accommodate tie downs or rack systems.
The Decked system can be mounted in nearly every full size pickup truck made since the late 1990s, is easy to install, and mounts to the truck bed's existing tie downs with no drilling required.