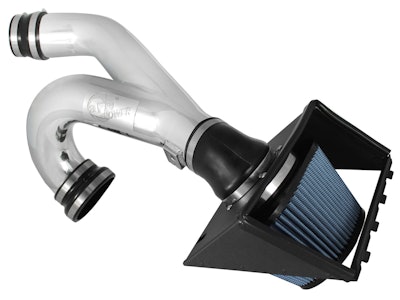 aFe Power has released a Stage-2 air intake system for the 2012-2014 Ford F-150 Ecoboost V6-3.5L.
The company says its Stage-2 air Intake system produces 25 horsepower and 30 pounds torque. The system uses a 5 and 1/2 inch washable/reusable air filter which connects to a 16-gauge heat shield that mounts quickly to the factory air box increasing airflow over the stock air intake system.
This intake is designed specifically to be used with the factory MAP sensor.
The intake utilizes a huge, 5-1/2 inch oval conical Pro 5R performance air filter with inverted top for maximum flow, and is also available in the non-oiled filter, Pro Dry S. aFe developed this heat shield to snap onto the top of the lower half of the factory air box to provide a hassle-free installation utilizing factory mounting locations.
The three-angle adaptor is used to speed up the air flow after the air filter for improved performance and throttle response.