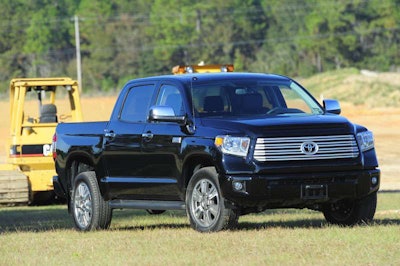 By Bruce W. Smith
Legroom is one of those esoteric terms that most of us in the world of work trucks rarely think about. That is until it comes time to be the one who ends up riding in the backseat of most crew cab pickups.
Having one's knees embedded in the seat back of the person sitting in front of you isn't going to happen if the work truck happens to be a 2014 Toyota Tundra Crew Max. There's legroom aplenty and the rear seats are angled back just enough to make a long drive actually pleasant.
Add in ample shoulder room, leather trim, an awesome sound system, multiple 12V power points, and you feel like you've been upgraded from Economy Class to First Class on a cross-country flight.
[youtube HMz3shV_BAA nolink]
Those are just a few of the perks Toyota's Crew Max Platinum-edition brings to the transportation side of work as I found out during a week-long road test.
As much as we like for co-workers bumming a ride to be comfortable, it's how the Tundra performs as a daily driver that's the really the most important point.
Business owners looking to invest in a premium-level pickup like this want it to be a rolling office, client shuttle, part-time tow vehicle at work and the active family's transportation on weekends. They also want it to make an impression when they drive up to meet new clients and customers. The 2014 Crew Max Platinum meets all of those needs.
New look & feel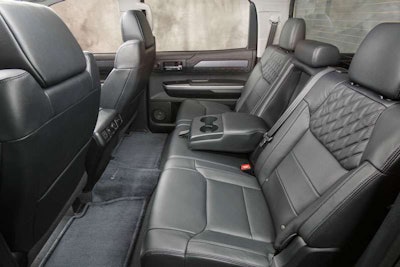 Visually the new Tundra looks more angular and bolder than the previous model. Minor body design changes to the hood and grille, fenders, bumpers, tailgate and taillights give it a more squared-off, stouter and taller appearance.
Inside there're even more changes. Toyota designers have improved passenger comfort in the Crew Max with a new front and rear seat design and improved front seat ventilation. The standard front seat heaters and cooling fans work wonderfully for all-season comfort.
In addition, front seats have more than an inch of additional travel, so the big-and-tall driver can drive with ease. Another improvement is the Crew Max's rear seats, which can now be folded up for additional cargo carrying capability while maintaining a comfortable seating back angle and lowering load-in height by more than 11 inches.
That said, I have never been fond of the firmness of Tundra's seats or how much plastic is used in the interior. Toyota added some cute stitched padding on the dash and door panels this year, yet I still see a lot of plastic and hard interior surfaces that take away from the overall luxuriousness portrayed by the Platinum moniker.
Quick & agile
As for the handling side, very little has changed save for minor tweaks in suspension (shock) tuning and tightening up the steering to improve straight-line stability which really makes this truck an easy drive when towing.
I found the ride to be a little stiffer than its competitor's half-tons, more so in the rear than the front. With a 4,200-pound trailer in tow it's better, but still has that jittery feel. Put four tons of trailer load on and the ride is quite pleasant.
Steering is light, the brakes quick and firm. Driver visibility is excellent to the front and sides; not so much so over the right shoulder where the longer cab creates a big blind spot. (Hence the need for the blind-spot mirror with traffic alert option that's $500.)
Set for work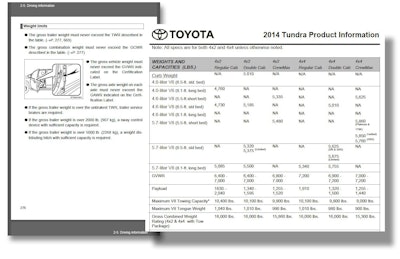 Crew Max Platinums come equipped with an excellent navi/sound/do-it-all system that has a big, bright screen and decent back-up camera. The latter makes it easy to back up to a trailer in the dark and park the hitch ball right under the trailer's tongue, which is a real time saver for those who tow a lot.
The 5'5" Crew Max bed is the deepest in the full-size pickup market and is equipped with adjustable tie-downs along both sides. The high bedsides increase capacity of materials such as mulch, gravel and sand. At the same time the high sides can make it challenging to reach in a crossbed toolbox or objects in the bed without dropping the tailgate or using a side step of some sort.
Under the hood the up-level Tundra still comes with the 381hp V-8, 6-speed automatic and 4.30 axle ratio that's been its calling card for years. It's a strong combination to get a load moving quickly.
This particular model Crew Max Tundra can tow up to 9,900 pounds as long as a weight-distributing hitch is used, otherwise Tundra's are limited to 5,000 pounds towing on the factory-supplied hitch.
Strong numbers
It scoots, too. I ran the Tundra at Gulfport Dragway, just a couple miles from my office on the Mississippi Gulf Coast where Tundra Crew Max delivered some impressive numbers.
Our Stalker radar system showed it took 7.2 clicks to hit 60mph and 15.4 seconds to break the quarter-mile at 90.2mph. The only other full-size truck I've tested recently that equals those figures is Ford's F-150 EcoBoost.
Fuel economy, however, is not that impressive. Toyota didn't make any changes to the engine in the new model, so the EPA numbers remain 13/17/15 (city/highway/combined.) I saw 18.2mpg during a 100-mile interstate cruise at 70mph and 13.4mpg driving around town.
I'd expect towing numbers to be very similar to most competitor's gas V-8s: low double-digit .
Overall, the 2014 Tundra Crew Max Platinum gets a strong thumb's-up. I like the bolder body styling and it has all the power you'd want in a half-ton for work or recreational towing. I like the spacious interior and the Platinum's array of standard features that make the occupants feel like they are riding in the lap of luxury. I also like that it's designed and built right here in the States.
If the next generation has less plastic in the interior and the V-8 brings more state-of-the-art technology for better fuel economy, Toyota will remain a strong competitor in the work truck market.
Basic Specs
Make/Model: '14 Toyota Tundra Crew Max Platinum
MSRP: $47,320
Price As Tested: $48,475
Engine: 381hp aluminum 5.7L V-8
Transmission: 6spd automatic
Axle Ratio: 4.30:1
Curb weight: 5,480 lbs
Max Tow Capacity: 9,900 pounds
Fuel Economy:
EPA: 13/17/15
Observed: 13.4 city/ 18.2 hwy
Performance:
0-60mph: 7.2 sec
¼-Mile: 15.4 @ 92mph
60-0mph: 121 feet