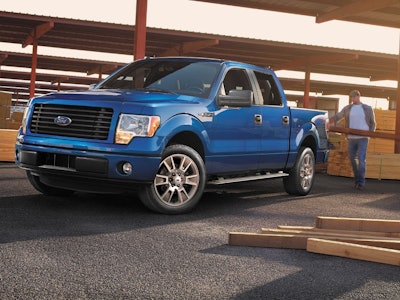 Ford announced Tuesday that sales of its F-Series are on pace for its highest yearly sales total since 2006.
Calendar year-to-date sales of 645,316 trucks have already surpassed full-year 2012 truck sales.
Ford says F-Series October sales of 63,803 trucks climbed 13 percent, the sixth-straight month above the 60,000-vehicle mark. The last time Ford sold more than 60,000 trucks for six consecutive months was 2006.
"If our truck business continues at this rate through the end of the year, we will reach 60,000 F-Series sales for eight straight months, putting us on par with 2006, before the economic downturn," says Erich Merkle, Ford sales analyst.
Doug Scott, Ford truck group marketing manager, says through October, Ford's leadership margin is nearly 220,000 units over the Chevrolet Silverado and 67,000 over Silverado and GMC Sierra combined.
"F-Series has outsold Ram by more than 330,000 units in the first 10 months of 2013, almost 50,000 more trucks than the gap a year ago," he adds.