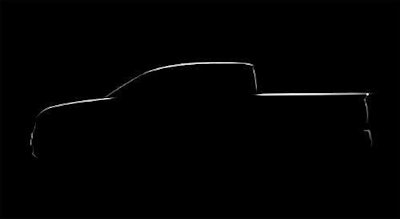 A once languishing mid-size pickup market is getting yet another refreshed player at the table.
Honda announced Wednesday it will bring an all new Ridgeline pickup truck to market in less than two years, and that production of the current generation and Alabama-built Ridgeline will conclude in mid-2014.
The announcement suggests the Ridgeline will skip next model year as second generation production begins.
The first generation Honda Ridgeline – the 2006 North American Truck of the Year – features a unique design, five-passenger cabin and half-ton truck capability. The first truck of its kind to be built on a closed-box unibody platform, the Ridgeline introduced several new features to the pickup segment, such as its large In-Bed Trunk and dual-action tailgate.
Honda only released a profile-only sketch of the second generation model, but from that rendering several things appear obvious. The coming generation of Ridgeline appears more rounded in front and windshield angle looks to be leaning back more. The raised bedsides of the previous generation also appear to be leveled off and cab features a less angular C-pillar, giving the profile a more traditional pickup appearance.
"The next generation Ridgeline will build on Honda's role in creating new value with a new take on advancing form and function in the truck segment," says Michael Accavitti, senior vice president of automobile operations for American Honda Motor Co., Inc. "With a clear path forward, Ridgeline will play an even more important role in our future product portfolio and strengthen an already class-leading lineup of light trucks."
Honda hopes the revamped Ridgeline will ignite sales in the mid-size truck segment that has seen a resurgence over the past few years. Ford dropped its Ranger in 2o12, conceding that truck segment to the Toyota Tacoma.
However, last month General Motors announced its plans in the mid-size truck market by pulling the curtain back on a new Chevy Colorado, which will be built in the image of the flagship Silverado.
Honda confirmed the new model will be designed and developed in the United States.