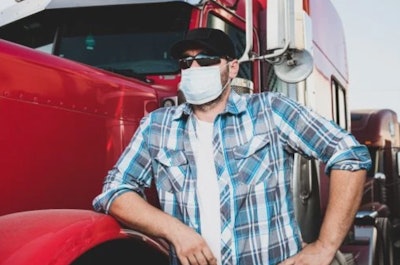 As COVID-19 spread across the country, businesses that couldn't work from home scrambled to develop plans to keep employees safe from the pandemic and offices germ-free.
Personal protective equipment (PPE) was the first line of defense for essential workers, including truck drivers, and 85% of fleets that responded to a recent CCJ survey measuring the coronavirus' impact on motor carriers said their drivers were wearing masks and gloves, with another 70% reporting increased facility cleaning.
Polaris Transportation Group, a less-than-truckload cross-border carrier based in Mississauga, Ontario, has been providing protective eyewear, gloves and hand sanitizer, and there's more PPE on the way.
"We have just ordered face shields, so our drivers [and] front-line workers will have access to these now," said Brenda Brajkovich, the company's marketing and client relationship manager.
Polaris staff have been trained on how to use PPE and dispose of the items properly, and Brajkovich said additional training will be provided on an ongoing basis. All touch points on the drivers' trucks, inside equipment and office areas are sanitized after each use, and all interchange areas also are under COVID-19 protocols, including social 6-foot distancing and using divider shields.
Illinois has struggled mightily during the pandemic and has the third-most active cases in the United States with nearly 75,000 total. Mary Tuozzo, operations manager for Phoenix Cartage, said it has been difficult to find masks, gloves and hand sanitizer for the Chicago-area carrier's drivers.
"It was very hard to find, a lot more expensive than normal and took almost a month to receive, so our drivers have been putting themselves on the line working without it for the past month," Tuozzo said. "One of our customers had two deaths at their location in Chicago, and two others closed down for a few days due to a handful of employees testing positive for COVID-19."
Shippers and receivers also are playing a role in carriers' cleaning and sanitation practices. Roy Hood, president for Big Tex Delivery Service, said many of his drivers already are required to have normal PPE to serve several of the company's clients, but the Houston-based hotshot carrier also bought extra protective gear for drivers who want to use it.
"We are pretty driven at this point by our customers," added John Elliott, chief executive officer for LoadOne (CCJ Top 250, No. 215). "The Big Three automotive has already informed us that drivers will be required to wear masks of ASTM-1 level or higher and gloves when picking up or delivering. I expect that the unions will push this requirement into a lot of suppliers and manufacturers as well."
Elliott said the Taylor, Michigan-based expedite fleet also has instituted a daily COVID-19 self-declaration in its driver app, "so we can monitor and keep the database. Drivers can also send the declaration form via the app to a customer that may want or require it. I think some things will continue for quite a while."
"In anticipation of returning our lives to some normalcy, it is my belief that it will be a very long time before COVID is over," added Sherry Kircher, safety director for Whitewater, Wisconsin-based Major Transportation Services. "It will be like turning a dial, and not like flipping on a light switch."
More than three months into the pandemic – even with most states beginning to relax measures put in place to inhibit the virus' spread – many carriers say they plan to continue rigorous use of PPE for the foreseeable future.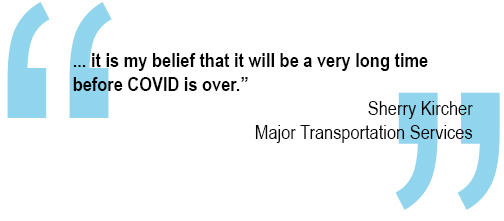 "Our plan is to keep up these safety practices until we have a vaccine for COVID-19," Brajkovich said.
Tuozzo said it is difficult to predict how long Phoenix Cartage will continue with the extra safety precautions, but she said she expects to provide masks and hand sanitizer "even after they open things up here in Illinois, especially to the drivers that are at higher risk due to age and health issues. Our drivers really work hard, and it would be tragic for any of them to get seriously ill or die in relation to their work efforts, so it's worth the extra effort on our part to keep everyone safe."
Supply and demand currently favors those selling PPE, forcing carriers – many of which already are facing financial headwinds – to make new investments in different equipment that few expected entering the year.
"If we rebound even half of the missing 50% (of business) right now, then yes, I would be able to continue to provide the extra PPE," Hood said. "The additional masks and sanitizer would not be a big deal. Just a new norm."
Kircher said she feels a personal responsibility "for the health and safety of our employees, on and off the job right now," and that she has continued to make information from local, state and national levels available to all employees "in bite-size but routine pieces.
"I will continue to do that, as our employees have indicated that they aren't big on listening to the news anymore," she said. "I can't control what they do when they are not at work, but it is in my control to be sure they are informed as to what they should and shouldn't be doing when they are away from work."
Kircher said as COVID-19 has evolved and state and federal protocols have changed, Major Transportation has continued to adjust its processes and safety requirements for its employees and facilities.
"If things start to relax, like letting salespeople back into the building, we will have to put more procedures in place to be sure that we are still protected and protecting our work force and buildings," she said. "Masks will definitely be a requirement for any visitors or anyone not practicing social distancing within our company."
It can be hard to know if drivers follow all the recommended guidelines since they are self-supervised. Scott English, owner of English Hay Company, a Mesa, Washington-based livestock and hay hauler, said his company's policies will mirror those of lawmakers.
"When our government decides what is required, that's what the policy will be," English said. "If it returns to normal, we won't require anything."
"I think we will be at greater risk if things begin to relax too early, and with all of the politics going into these decisions, states are going to be forced to open before there is a vaccine, or before science determines that we are ready to do so," she said. "I will continue to provide our employees with PPE so they will be adequately equipped to do their jobs among the masses of people who are not being cautious at all. It is a small investment to keep our employees safe and healthy."
Kircher expects that Major Transportation's elevated cleaning intervals will increase as more Wisconsin businesses open up.
Continuing to practice enhanced sanitation in the post-COVID-19 era could go a long way toward reducing driver sickness and improving their health and wellbeing in general, with the added benefit of eliminating downtime due to driver illness.
"I really don't think we will ever completely return to pre-COVID practices," said Mike Dodds, chemical engineer for Whiting Systems, a manufacturer of vehicle wash systems and cleaning detergents. "But I think we will retain some beneficial new practices that will help improve overall driver health and safety going forward, mainly greater prevention of the spread of any and all infectious viruses in the driver space. Why not flatten the curve of winter flu season, common colds, GI viruses, as well as beat down COVID-19 flare-ups going forward?"
Dodds said frequent handwashing, safe load handling, no-touch or paperless paperwork and effective cab disinfecting wouldn't be overly burdensome considering that it lessens the likelihood of employee sickness in the workplace.
"I think equipment sanitation will be with us going forward as well," he said. "The reefer sanitation for [the Food Safety Modernization Act] needed to prevent the occurrence of foodborne illness agents throughout the food supply chain. Coupled with cab space disinfecting for COVID, [sanitation] will become standardized truck maintenance best practices in the future, no doubt."