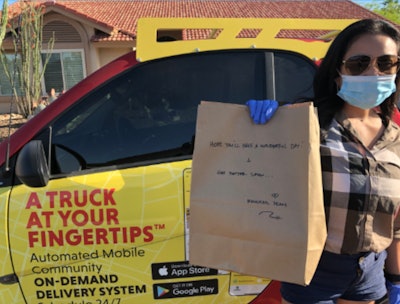 As COVID-19 restrictions loosen up, opportunities for pickup and delivery are on the rise as healthcare experts warn that though coronavirus infection rates have largely plateaued, the historic and deadly pathogen is not going away anytime soon.
In the meantime, people are shopping. Those with greater concerns about catching the virus may stick with online buying while others don masks and gloves and head to home improvement and garden centers to prepare for big springtime projects. (Popular garden suppliers like Miracle-Gro and Burpee can't keep up with demand for all their products, and Southern Exposure Seed Exchange actually stopped accepting orders due to unprecedented demand.)
Whether it's big bags of fertilizer or a new refrigerator, shoppers still need help getting those items home. Those opting to shop at local retailers can turn to local delivery providers like Haultail which is in a hurry to find new drivers particularly as business restrictions and COVID infection rates continue to drop.
"We are rapidly expanding and opening more regions and territories, tripling our capacity on a monthly basis, with anticipation of having the entire nation open within the next 90 days to support our big box retailers," said Haultail CEO Bruce Williams.
Seeing a need for additional delivery services, Haultail recently expanded its offerings to include grocery, parcel and pharmacy deliveries. Check out our Q&A below with Williams to learn more.
HWT: What prompted you to shift the focus of the business? For instance, were drivers complaining of business dropping off? Did someone suggest it?

Williams: We don't really consider it a shift of focus as much as it is fulfilling a current need facing many businesses and individuals. Haultail has always been an on-demand service provider for pick up and delivery and we started out with a focus on hauling junk & debris, trademarking the phrase, "A Truck at Your Fingertips." Haultail initially began with its patented woven bags for junk & debris throughout Lowes stores across the country, so expanding into pickup and delivery of new store purchases and used items as well as junk and debris/donation drop off was natural.
When the COVID-19 pandemic shutdowns and social distancing orders hit we saw the entire landscape of business as we know it rapidly change. Supply chain delivery was bottlenecked at the same time as a wave of ride-hail gig contractors were out of work. We've recently seen an influx of driver demand come in by the tens of thousands.
At the same time, businesses that have been forced to suspend in-store shopping needed options to compete with giants like Amazon who offer same-day delivery options.
There were no suggestions per se, but rather a huge jump in demand for servicing last mile needs within just hours of ordering, including both large/bulky and small items.
HWT: How have delivery opportunities been at home improvement and garden centers lately?

Williams: We've noticed that since people have been directed to stay at home and avoid socializing they have been more likely to tend to DIY home improvement projects, cleanups, and updates. Since the big box retailers like The Home Depot, Lowes, Ace Hardware and Do It Best have remained open there was a concentration in the marketplace.
HWT: Are you looking to hire more drivers currently to meet demand?

Williams: Yes, we are rapidly expanding and opening more regions and territories, tripling our capacity on a monthly basis, with anticipation of having the entire nation open within the next 90 days to support our big box retailers.
The vehicles of Haultailers range from motorcycles, passenger vehicles, SUVs, vans, pickup trucks to specialty vehicles such as large box trucks, dump trucks and tractor trailers. Drivers and vehicles are verified, current and in good operating condition taking into account all makes, models, dimensions and weight capacities in order for the system to automatically match the orders to the closest and most appropriately sized vehicle. The Haultail app's technology localizes and allocates timely and real-time tracked deliveries within just hours.
HWT: Insurance requirements?

Williams: A Driver must have a current auto insurance policy that meets or exceeds the minimum requirements in the state where the Driver's vehicle is registered and which covers the Driver's performance of Gigs on the Platform.
HWT: Are drivers required to meet with customers face-to-face or are transactions handled electronically to maintain social distancing?

Williams: Drivers are required to obey local laws and regulations of their State, County and City as it relates to COVID-19. We strongly encourage safe measures and reward drivers for wearing proper protective gear in order to keep customers safe.
Once a job is allocated to a driver, the customer is made aware and issued an electronic pin-code in relation to their bill of lading. Once the parcel / package / load is picked up, the customer will see it through live-tracking on the app and a photo confirmation from the driver. Upon delivery, the driver notifies the customer via the app and takes another photo to confirm the package has arrived at its destination. Once the customer is alerted to the final delivery they take receipt of the order while maintaining a safe distance and push the pin-code back through the app. At this point the order is complete and they can rate the driver and overall experience or even provide a tip if desired.
This truly is contactless delivery with confirmation of completion / proof of delivery.
HWT: How are job charges calculated? Based solely on mileage? Weight? Size? Cargo securement requirements?

Williams: Courier level jobs start at $9.95 and mid-sized to big-bulky starts at $19.95.
Type of delivery, the dimensions, weights, distance, time and special considerations are automatically calculated and competitive.
Before a job is entered, any coupons or promotions are deducted from the order.
Another major value is that Haultail is the only provider that offers the home and garden contractors can utilize Haultail woven bags from Lowes or Demo Bags from The Home Depot and have the entire cost deducted from their delivery order by entering proof of purchase. https://www.haultail.com/promo/
The company's focus is to support its community. Not just with safe practices and verified drivers, but also by giving back with free delivery of essential items within 3 miles of pick-up locations. We do this for those groups in need; the elderly, disadvantaged, immunocompromised, suffering from COVID-19 and in quarantine, or generally those who have been negatively impacted by the current economic crunch altogether. We feel that being an on-demand service provider comes with an obligation to care for others in times of need.
At no cost, this is for those that are in need, are elderly, unfortunate, disabled or disadvantaged by the current economic crunch or quarantined due to being exposed to Covid-19. https://www.haultail.com/covid19-contactless-delivery/
Being on-demand delivery service comes with an obligation to care for those in time of need.
HWT: What really sets Haultail apart from delivery services offered by Lyft and Uber?

Williams: The biggest difference is that Haultail understands shipment specifics and the metrics that make for success in the last mile. Dims, weights and the detailed shipping list of goods in the form of a receipt, new or used, given by the carrier to the customer is a hauling / delivery standard. This means no limitation to size and more accurate process to serve the end customer. The key difference is our level of quality assurance from beginning to end, through real-time delivery tracking and driver communication, to the detailed processes of photo-confirmation upon pick-up and completion of delivery.
In comparison, ride-hailing models are based on availability and saturation and Uber and Lyft are pivoting to become simple courier services. This presents challenges to last-mile delivery when it comes to specific weights, measurements, documentation, insurance and handling. Uber and Lyft are operating on the assumption that existing tools for ride-hailing are sufficient to perform a range of deliveries, but in the process of trying to adapt on the fly they're still only limited to carrying packages 30lbs and under.
While Lyft and Uber may want to feel like competitors in this space because they are household names in ride-hailing, they simply don't have the same focus on identifying materials and handling them properly as a Last Mile contactless delivery service like Haultail.